MasterPeace Walk Georgia 2022
Join the MasterPeace Walk 2022
ENGAGE with self, other and culture
EMPOWER young Georgians, projects and communities
ACTIVATE care for nature and show-up as your true self
Join us in an unique 10-days experience in Racha area in the north-east part of Georgia. Racha area is rich in beautiful nature and cultural monuments. 
You will discover and experience the culture and rituals of Georgia, and as for 6 days you will walk, live and sleep in nature together. You will enjoy the company of a group of about 20 locals and 20 westerners. This journey is a deeper experience in which you will connect, discover and learn from nature, culture and your own personal leadership. 

Giorgi Azariashvili and his team of MasterPeace Georgia will host this event and invite you to join!
Enjoy the company of unique warmhearted people; 
Walk and talk about life and work in challenging times; 
Learn about the Georgian traditions, culture and rituals; 
Discover the work of the local MasterPeace Club; 
Disconnect from western civilization; 
Reconnect with nature and yourself; 
Experience via silence, storytelling, rituals, sharing and reflection; 
Walk 6 days 80 km in an area of 1200-2500 meter altitude; 
Enjoy a healthy environment and traditional fresh food; 
Add value to the local community;
"Georgia is famous for its hospitality and generosity. Georgian wisdom says: "a guest is the God-sent", thus, MasterPeace Georgia and our friendly team invites you on the first ever MasterPeace Georgia Walk, which will take in the mountainous Racha region." 
-Giorgi Azariashvili, Clubleader Masterpeace Georgia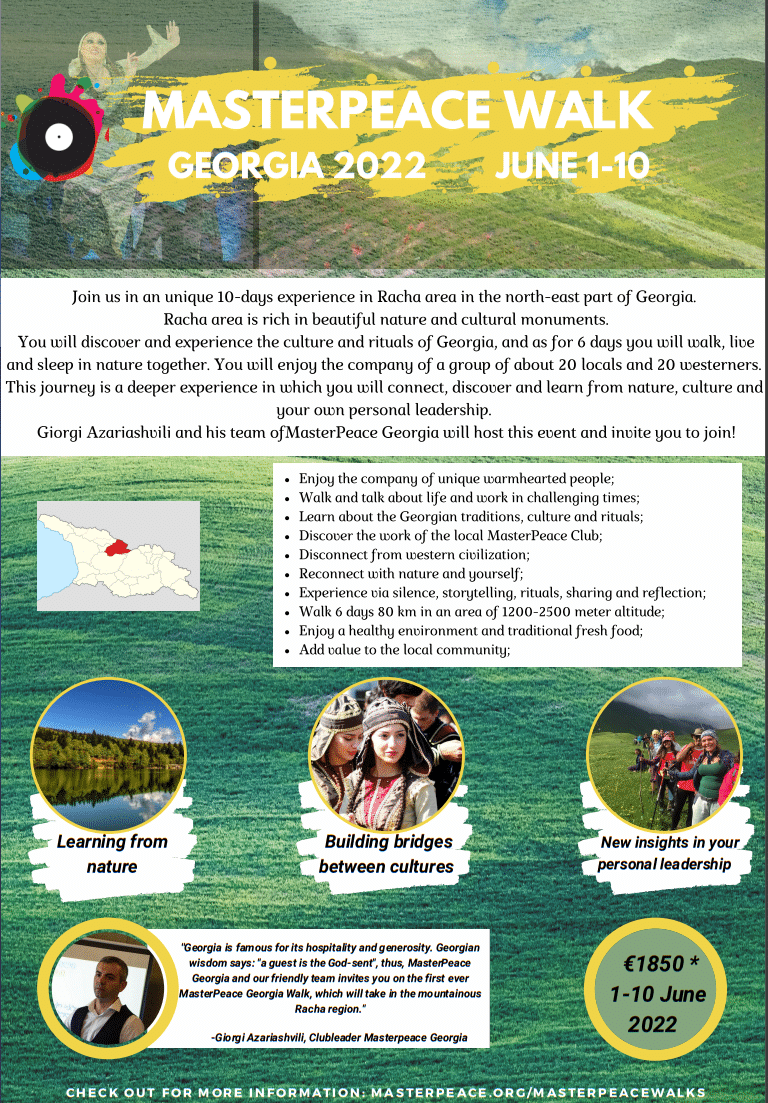 Date: 1-10 June 2022
Area: North East Georgia, Racha area
Costs: €1850,- (excl travel)
The MasterPeace Walk Georgia 2022 is organized and guided by two experienced MasterPeace walkers, Mark and Thea.
Thea Overgaauw works as an Education Service Center manager at TU Delft. She walked as a participant in the MasterPeace Walk in Kenya in 2014 and then organized this walk in Kenya in 2015 and 2017.
Mark Stienen is a consultant, coach and trainer in daily life. He has participated in the MasterPeace Walk in Kenya and Nepal in 2014 and 2018 respectively.
Information related to the Coronavirus:
Of course, like everyone else, are we unsure of how the Coronavirus will develop in the coming months. We advise participants to wait with booking their flights. The trip can still be canceled because of Corona even when there are enough participants.
We will continue to monitor the situation and keep you informed of relevant developments of the walks.
Contact details for more information:
Mark Stienen: 0031 682756167
Thea Overgaauw: 0031 6 83621953