An interview with Ditta Trindade, Chair of the Board of MasterPeace.​
Ditta Trindade is a social entrepreneur, policy developer and educator who has contributed to different organizations around the world. She has worked on themes of youth, global education, volunteering, human rights, intercultural learning, participation and citizenship, gender, conflict transformation, social innovation and e-learning. Apart from being the Chair of the Board of the MasterPeace foundation, she works for GENE as a Global Education Specialist, and has worked for numerous different NGO's in the past.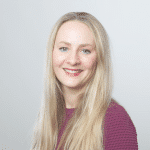 You have worked with youth around the world for a long time. Can you introduce your experiences as a youth worker?
I became a youth worker when I was in my teens, in my own community in Slovakia. It was after the fall of communism. I was part of a Jewish minority, which was forbidden under the communist regime, so I did not really know what it meant. I started to discover what it meant to be Jewish, but also what it meant to be Slovak, and if I could be both at the same time. Additionally, I grew up in Algeria before this, so I already had a different childhood than the others in my community, which all resulted in me feeling like I did not truly belong anywhere. And this experience has always accompanied me in my youth work.
When I wasn't even eighteen, the council of Europe started campaigning against racism, antisemitism, xenophobia and intolerance, and I quickly became active in this on an international level because I spoke multiple languages. This led me to gain more experience, which led me to train other young people and find good ways to discuss difficult topics. I personally was active on different levels of youth work: In academic study, in designing youth policies, and in a more practical sense as a youth trainer. At that time we mainly spent time on topics like intercultural learning and human rights education, but I personally also got very much involved in conflict transformation.
Around 2000 I was living in the Netherlands, and I was spending a lot of time designing innovative, global and virtual educational projects, which were all quite difficult to find funding for. But at a certain moment we did get some pilot funding which helped us create some really impactful courses. From there on I mainly focused on training young people to train others, and on how they could design programmes by themselves, so I became a bit less directly involved.
Do you see a kind of 'spark' that has driven you in your work?
It has always been my passion to work with youth. I might not be as directly involved as I was before, but I still take on a lot of assignments on youth work, like writing articles. I reflected on the youth policies in the city of Recife in Brazil for example, and I will probably do an assignment for the UNDP in Albania. So it is still my passion today. And if you ask why it is my passion, that is difficult to say. I believe that young people should have a voice in all the things that concern them. So any policies, any programmes. And this should not just be a tokenistic inclusion, but young people should actually be involved in the making of decisions. But in order for this to happen, they must know how they can comment on guidelines or policies. When it comes to day-to-day racism, intolerance and discrimination, young people need to know how to take a stand for themselves, because nobody can do it for them unfortunately. It is a very powerful thing to know how to do something about policies you don't agree with, and I think that we need to enable this learning to happen.
If you are looking at the structures of society, then you see that young people are always learning a lot. They are so used to learning that they are like sponges, which makes it easier to raise their consciousness compared to somebody who is already stuck in their own mind, sees the world in a set way, and does not actually want change. This makes working with young people much more rewarding, because you need little to inspire them. And when you invest just a little bit of time, most of them will grow by themselves. You just plant the seed, and in a couple of years you can see the result.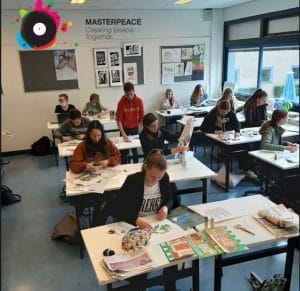 In the trainings I have given, you can see that it impacts most of the young people who join. Often it takes some time and you cannot see direct results for most of the people who join, but even the people that did not look most promising can often later tell that such a training has totally changed the course of their lives, or used it as a source of inspiration in their professional careers. So the impact that we can have is enormous. This makes it a shame that there are often no funding possibilities for new and innovative projects, because the people writing out the funds often like to stick to proven methods until they dry out. I think, however, that a lot of creativity is stimulated through knowing that something is new, which opens the mind for learning from both successes and failures. If you work with young people, you need to be ready to learn from whatever comes out. And it may go wrong. But it may really be just worth the learning of the lesson. If you debrief it in the right light, still young people can take so much from it for their next project or initiative. So this is my spark I think: Helping young people find their own voice.
Would you say that the long-term investment in youth is challenging for our short-term societies?
Of course, but this is also the case for young people themselves. People often want to see immediate results. And you can see this in any generation of young people , when they are quite new and do not yet know the processes. They have to discover that it takes time to have something adopted by a government or institution, with a formal process. It is a totally new world that young people have to discover. This is why I think it is important to have intergenerational dialogues, and why young people should have access to other actors and policy makers. That way they can make more informed decisions about policies that concern them.
Would you say that one of the biggest challenges is focussing on teaching youth how to engage and let their voices be heard?
Yes, I would say so. There are many young people who only see barriers to participation. They think that nobody wants them there, or that there are no good opportunities for them. There are definitely many others who do see opportunities everywhere. But most young people just don't see these opportunities. So it is important to have a good information system about how to find these kind of opportunities. In Europe we are in general quite privileged on that regard, since we have a lot of good information systems. But in most other places in the world this is non-existent. And how bigger the disparity in terms of income, society, level of education, the different social classes and so on, the harder it is.
So youth information is the first step: How to show the opportunities to young people. Another thing that has been key already in the past for the past fifty years is not looking at young people as a problem, but as an opportunity. This is easy to say, but also hard to consider. Especially when looking at juvenile justice and crime, and issues of security and youth gangs. Sometimes it is hard not to see young people as a problem. But in these cases the young people often did not have a chance or opportunity for something else. They live where they live. So it can be hard to look at young people as a resource in under-privileged communities. This negative thinking is also seen in how people analyze data on young people. Often, research will be about 'the most underprivileged', 'the least employed' or 'the most discriminated'. In other words:  It is always about negative facts, instead of opportunity. There should be more data on youth organizations and which methods really work. If ninety percent of young people are not finding opportunities, that might be because they do not know how to find these. And I do think that it would be great if we could help in this process.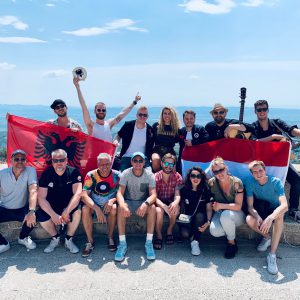 Another challenge is that people also tend to forget that when it comes to taking away barriers to participate and standing for a better world is often a volunteer position for young people. They do not get any money for their work, and often there even is an invisible cost attached to participation. Volunteers are expected to sometimes even twenty hours a week to keep up and participate. Often young leaders get dragged into more and more work, because they really want to help and see opportunity everywhere. But this can result in a burnout eventually. Sometimes even travel cannot be funded, or they have to work from their phone because they have no access to good internet or a good laptop. This makes work really hard and stressful.
Let's continue a bit about your role as the chair of the board of MasterPeace. What makes MasterPeace special for you?
I am really attracted to the fact that MasterPeace is a network that is also a mixture of different philosophies. It does not only work with youth, but with Changemakers. It is not a traditional grant-oriented organization, even though it can be quite successful in that regard. Additionally, it has the potential and aspiration to become a social business that generates some income through activities to invest again into innovation and partnership. This juncture of approaches to social change is not a classical thing. MasterPeace has followed an interesting path: It shows us how art and a single celebrity can start change, but also how this can be taken further: Through education, through dialogue, and through real impact to the communities. Additionally, MasterPeace successfully creates a sense of belonging, which also brings great opportunities for connections and networking on a global level. I would describe MasterPeace as a 'social franchise' for many different organizations who can all benefit from a global umbrella that brings them several resources: Knowledge resources, human resources, and also opportunities to get funding. This is something quite unique. I do not think that there are many networks that operate in this way.
How does the board vision the next ten years for MasterPeace?
MasterPeace has always been changing all the time. There are always certain trends that take most attention. When I joined for example, there was a crisis in the Cairo office, and most of us were just concerned with whether MasterPeace could survive the financial repercussions of that situation. It was a really difficult and delicate moment. But slowly MasterPeace managed to stay financially stable and we could even talk about creating reserves. Back in the day, MasterPeace was also more concerned with growing. We wanted more clubs and regions. Later we started to also focus more on creating more partnerships outside of our network of clubs, and finding a good balance between an external and internal focus. This balance is important: How big can MasterPeace grow for example? When does it grow too big for its own sake? We are constantly discussing these questions, because you cannot really know in advance. So we try to imagine different scenarios all the time.
As the chair, I really like facilitating debate in the board meetings, but I also really enjoy the diversity in the board. All board members have really different profiles, and I like the challenge of inspiring them to use their expertise for MasterPeace.
When comparing MasterPeace as a peacebuilding organization to other global actors in that field, we are not recognized as one of the key actors on a global level. At least not in the mainstream. So the question is if we want that to happen. And how would we identify ourselves then? Do we need to have a specific focus like art or social entrepreneurship? Could MasterPeace become a social business that generates resources for its own network through products and services? We are trying to explore all these different paths for MasterPeace. On the other hand, something unimaginable could happen, which could change the direction of the organization in an unpredicted way. But most importantly I think that these decisions are also for the different clubs to make: How do they see MasterPeace? What do they think is the best route to follow? Because eventually the clubs are far more involved on the ground than the board is.
What is your message for the different clubs?
Coming to the celebrations of the tenth anniversary of MasterPeace, I would be delighted to know what the different clubs envision for the coming years. Looking at the past ten years, what they have learned from their successes and their failures, and also looking forward, and imagining the futures that they would like to conquer. Maybe looking into different directions and exploring those. What kind of benefits or positive impacts it could bring to their communities. And I would think it is both time for looking back and looking forward. And I wish that all the diverse communities of MasterPeace would manage to join together their dreams, and strengthen their vision for MasterPeace for the future.