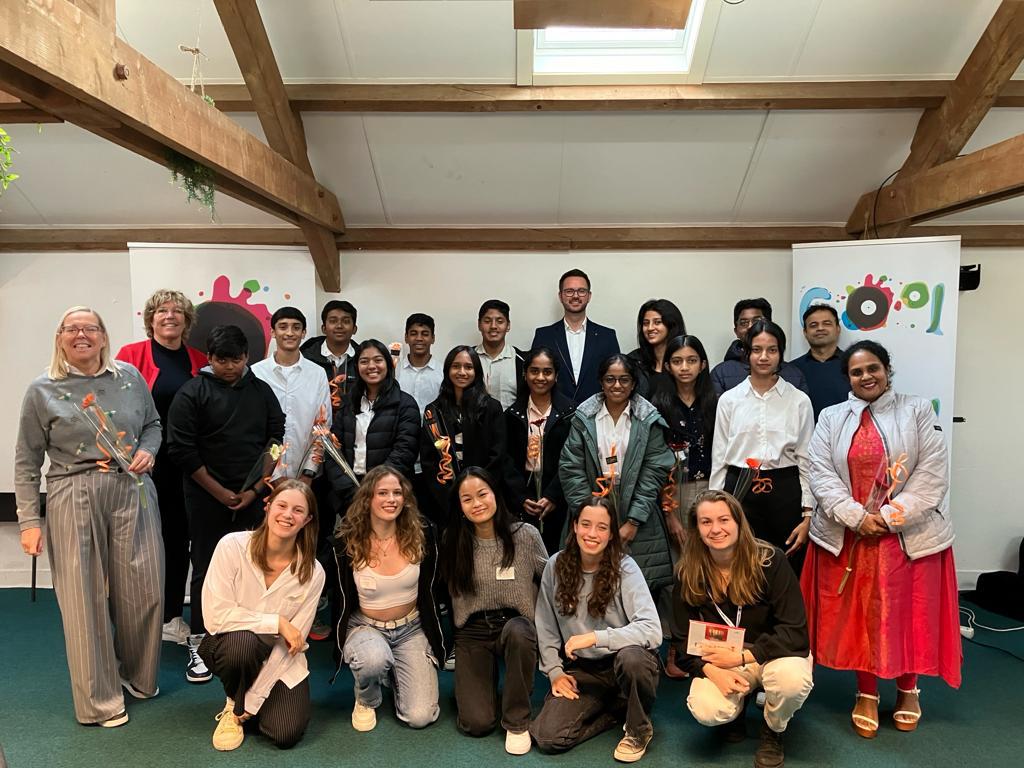 Global Impacts for Tomorrow (GIFT) by GLOBAL CITIZENS OF TOMORROW: Indian students contribute to Sustainable Development Goals in their communities
On the 22nd of November 2023 we welcomed some COOLeaders to our office in Utrecht. 13 students and teachers from the Vidyashilp Acadamy in Bengaluru, India are visiting The Netherlands as Global Citizens of Tomorrow. We invited them together with our other guests; four students of Da Vinci College, their teacher Yvonne Gallagher, Martin de Ruiter from Waves Consultancy and Anne-Marie Voorhoeve from The Hague Center. After getting to know each other a bit, the students presented their great projects contributing to the Sustainable Development Goals to our three experts; Martin de Ruiter, Yvonne Gallagher and Yarima Lugo.
The team of experts asked them questions and gave them feedback for the continuation of their projects.
The projects that were presented were;
Food wastage in schools
Menstrual Hygiene
Cleanliness in under developed villages
Awareness among farmers
Sanitation for under privileged Senior Citizens
Self reliance for the elderly (NL)
It was a very inspiring and valuable morning!
Below you will find a summary of all the projects that 70 students are working on.
Do you want to donate to these kind of projects in India? Visit the Seruds India website.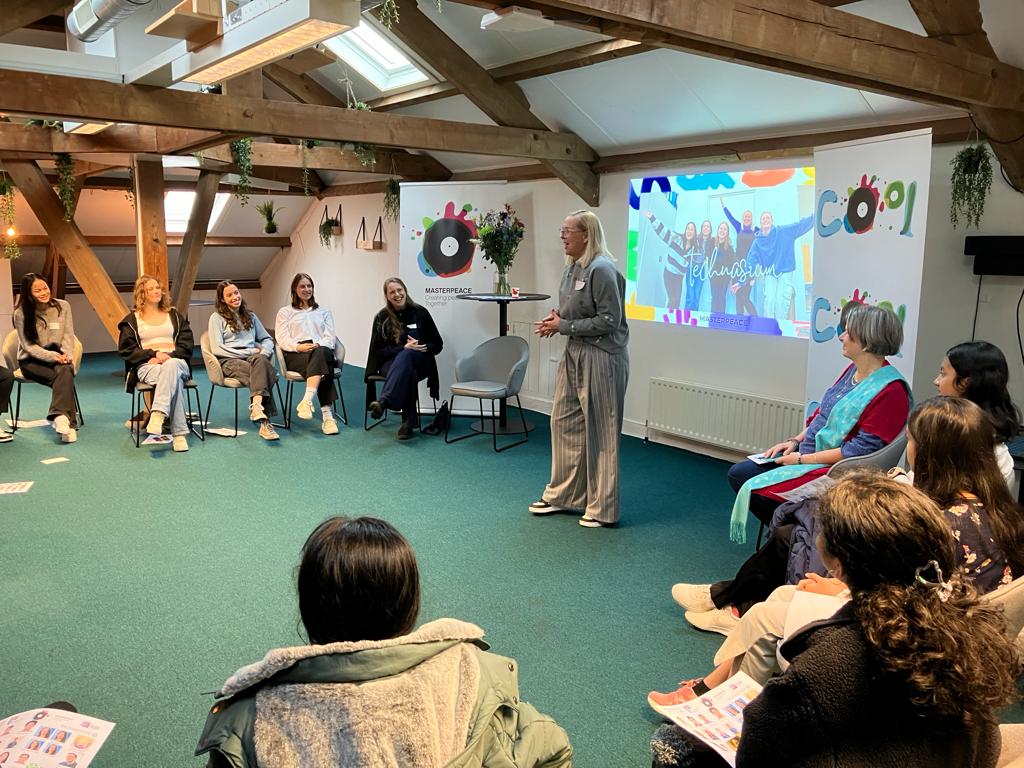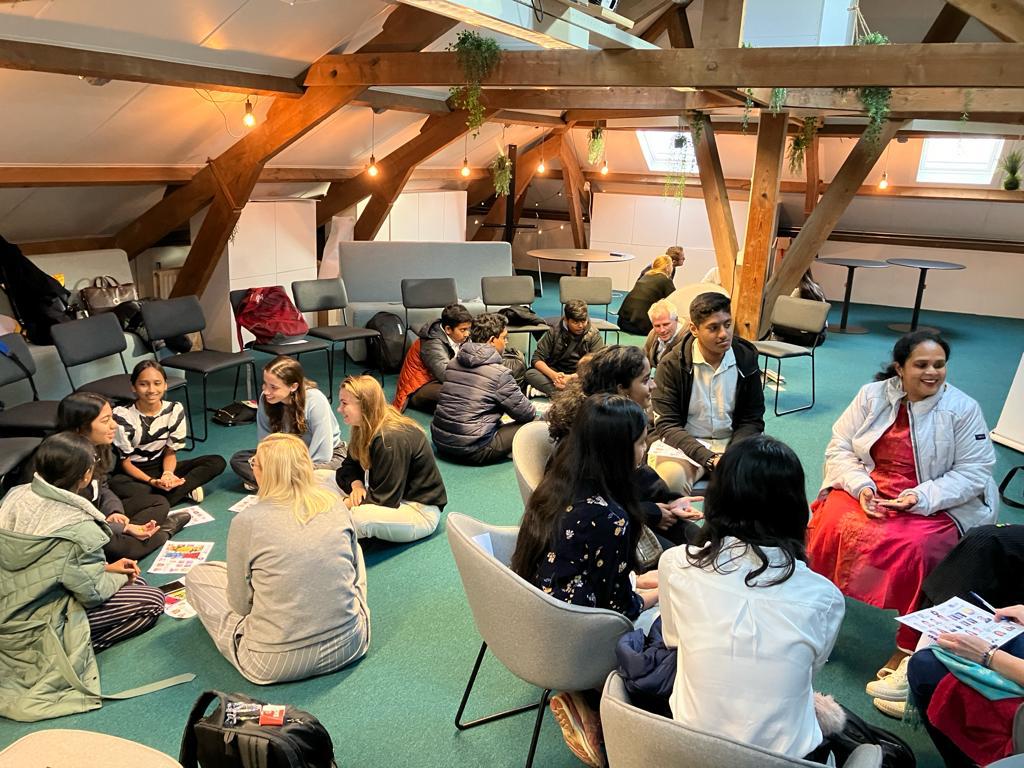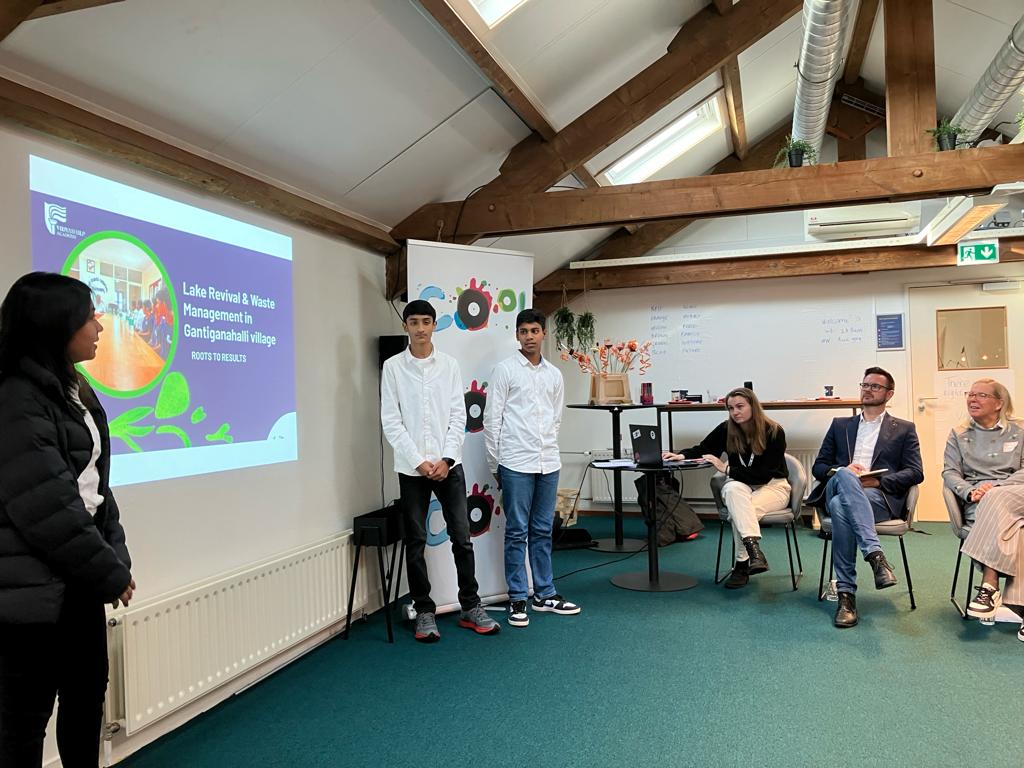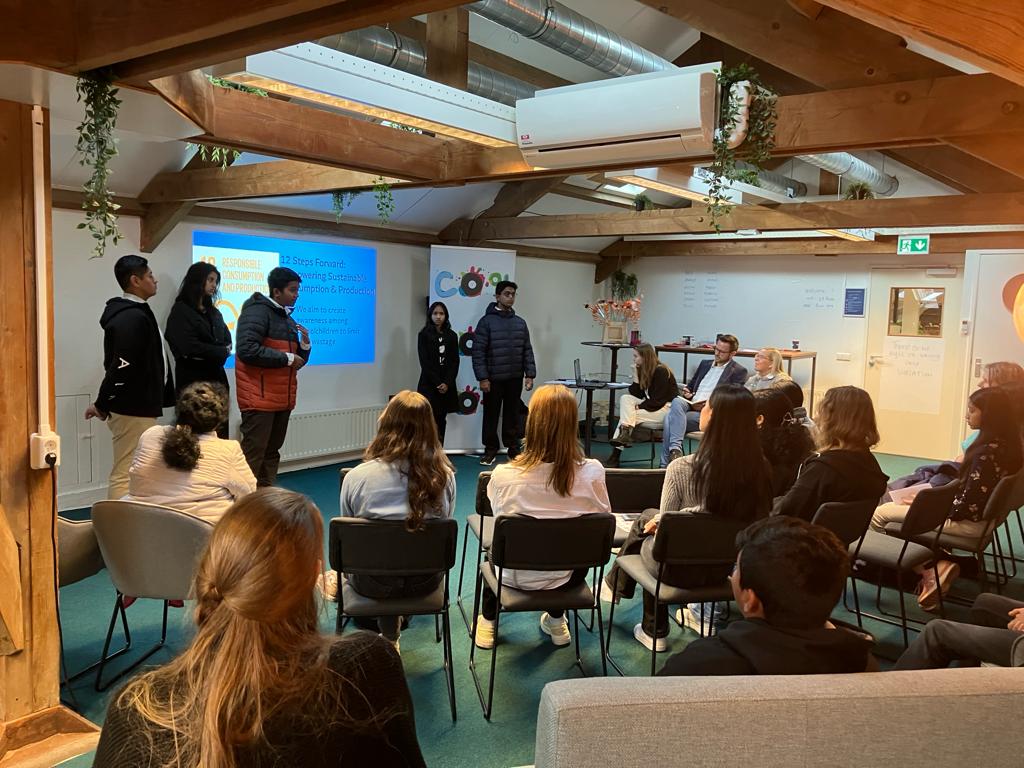 Project 1 : Food wastage in schools
Our SDG project involves encouraging less food wastage among students. The gist of the project involves a gong placed near the food wastage bin during lunch hours. Whenever a student comes up to the bin with a clean plate, our volunteer will bang the gong and hearing this sound, the rest of the lunch room will applaud the child with claps. Along with the above, the use of posters, "clean plate champion" leader boards, and announcements in school assembly days, we hope to achieve our goal of reducing food wastage in our school. Once successfully implemented in our school we would propose the model in other schools in Bangalore. We will measure the reduction in wastage before and after, to make pitch to various school managements. Impact can be huge due to large number schools having its own cafeteria and in addition there are large number of residential schools too.
Project 2 : Menstrual hygiene
Our SDG project revolves around the goal "Good Health and Wellbeing". Our main focus is on girls' menstrual health and hygiene. We have tied up with the NGO called "Anora Charitable Foundation" that goes by the handle "Reach lives". We're helping and educating the orphans who are under that NGO. We also created a fundraiser 5 days ago and have collected 50k from 17 different supporters till now. We're also spreading awareness and throwing light on illnesses that are not being spoken about openly by making posters and hosting workshops. Once this is implemented among the young girls who are under the foundation, we will look at scaling it up among other similar socio economic profiles such as government schools in rural area and various rural schools.
Project 3: Cleanliness in under developed villages
Our project, we picked a small village in the outskirts of Bangalore, which is underdeveloped. It has multiple problems which includes waste management and lighting. Dengue and other diseases are caused by inappropriate waste management in this area. Poor lighting makes it hard for children to play in the evenings and for everyone living there to walk in the night. BBMP, which is the governing civic body of Bangalore metropolitan area, picks up the trash from here. However, there are no dustbins placed in the area. Therefore, waste is littered everywhere. To solve these problems, our team is placing dustbins in the area and also installing solar streetlights for brighten the area. We intent to raise the fund for the same. We also intent to conduct educational session among these villagers. Once successfully implemented, we will look at adopting such villages and explore the possibility of partnering with an NGO in similar space to conduct this on an ongoing basis.
Project 4: Market access to tribal women's artisan products
Our SDG programme, which is based on the pursuit of sustainability, aims to create a strong supply chain in order to empower marginalised tribal women. During our "Tribal Connect" project, we came across villages full of skilled craftspeople who didn't have direct access to markets. Their livelihoods are at danger because of this lack of opportunities. Our plan is to display their beautiful items, such as fans, baskets, and paintings, on well-known e-commerce sites like ONDCs (such as Amazon, Upciclo). At the same time, we will use our website and social media to increase their awareness. We will also form partnerships with NGOs, such as with JRP, to expedite distribution throughout India, cutting out intermediaries and increasing profits by 50-80%.
Project 5 : Awareness among farmers
Our SDG project intends to make agriculture more sustainable by educating farmers about eco friendly products. So far our team has visited a village called Kadakola located on the outskirts of Mysore and surveyed several farmers about how they go about their usual routine and why being sustainable methods are difficult to implement for them. We then introduced them crop-rotation, reduced tilling and alternatives to harmful pesticides. On a recent visit to the village we were happy to see the farmers using some of our methods. We would like to introduce them to more farmers in the near future as well as find solutions to their problems while adopting sustainable methods. An action plan will be worked out after our pilot in Kadakola village.
Project 6: Agriculture Society and fair-trade certification
Our project is a twofold solution that targets small scale and larger scale agricultural societies.
Firstly, to combat nutrient deficiencies and promote crop diversity as well as alternate livelihoods we are proposing to make a starter hydroponics kit that can be set up in a small area and used for growing different kinds of leafy greens. The second phase of the plan looks at identifying key changemakers in different agricultural communities, giving them certain tasks to do throughout a prolonged period of time and then at a later date when once all criteria have been fulfilled getting them the Fairtrade certification.
Project 7: Sanitation for under privileged Senior Citizens
We have taken our target place as an old age home near Yelahanka old town and we plan on building new restrooms and give them basic sanitation facilities. We have already finished the building process of the restrooms and have started on making a revised plan on how we can maintain the restrooms. We have also ordered a bunch of sanitary items like gloves, masks etc. for the management team in the old age home as people get sick very easily. As for the people we have ordered a bunch of medical items like medicines and syringes and also a bunch of sanitary items that have already been distributed between themselves. We plan on finishing the revised plan on how we are going to maintain hereafter and will share it with the teachers shortly.
Project 8: Vision project for cataract patients – Under privileged senior citizens
One old age home was identified, incumbents were tested, and 15 patients were found to need anti-Cataract intervention. The necessary surgical interventions were also completed with support of an identified partnering hospital. Currently discussion is under progress to create system where the residents of the old age home may be tested on regular basis through partnerships. Second point of discussion is how to the project can be scaled up with multiple old age homes and hospital partnerships.
Project 9 : Hospital waste management
It has been noted that while large hospitals have a planned system of waste management, smaller clinics are not managing their waste in a scientific manner. We have discussed the matter with a few clinics in the neighbourhood. Discussion is under progress with a professional hospital waste management company. We intent to run the pilot with couple of smaller clinics subsequent to which we would like to scale up this a large number of clinics.