In 2022, MasterPeace implemented over 440 projects through its local MasterPeace Clubs with direct impact on local communities. These projects were focused on three core activities, all helping to create a sustainable future with less conflict: 1) Mobilize, inspire and connect young local talents via music, art and play; 2) Organize dialogue and bring all local stakeholders together; 3) Create perspective through leadership trainings, capacity-building programs and starting up social enterprises.
OUR PROMISE
As we are a grassroots movement, every MasterPeace Club decides on a local level on the types of projects that their team and community find the most relevant to implement. MasterPeace Foundation comes in by offering our support via knowledge management, partnership building and personal & professional coaching. To us, "Creating peace. Together." means "Creating campaigns. Together.", "Creating concepts. Together." and "Creating funding. Together".
Al projects of MasterPeace Clubs are aligned with the United Nation's Sustainable Development Goals (SDGs). The projects focus specifically on supporting global efforts in achieving the following goals:
SDG 4 – Quality Education
SDG 5 – Gender Equality
SDG8 – Decent Work and Economic Growth
SDG 11 – Sustainable Cities and Communities
SDG 16 – Peace, Justice and Strong Institutions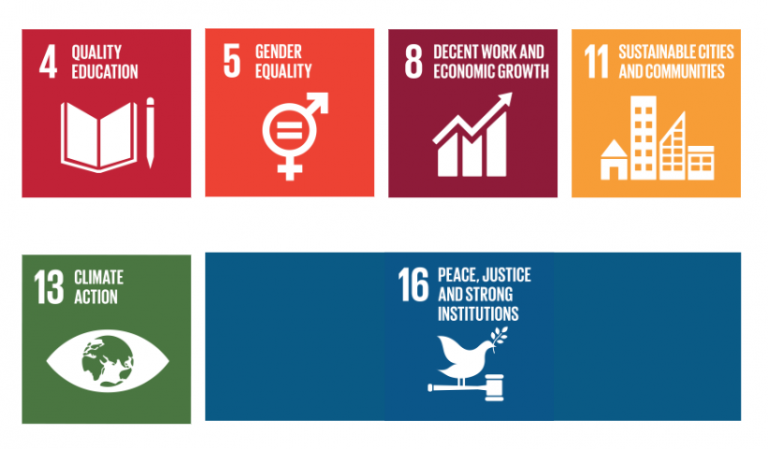 Quality Education is key to help the youth to grow their self-esteem and skills. Achieving Gender Equality remains a key challenge in many countries where MasterPeace works, hindering individuals from making use of their talents to the maximum extent. We also see the need to create (local) perspective for these talented young people through Decent Work and Economic Growth, as young people without perspective might be more inclined to follow negative role-models, leading to polarization and extremism. Urbanisation is an important trend affecting underprivileged communities, thus pushing the need to create Sustainable Cities & Communities that offer perspective to the youth. Climate change affects us all and the impacts are intensifying, leading to significant economic and social consequences. Climate Action is urgent and necessary to secure a peaceful, inclusive & sustainable future. Finally, we believe that the fundament of a cohesive society is Peace, Justice & Strong Institutions.
As MasterPeace is expanding rapidly in outreach and impact, we are moving towards empowering MasterPeace Clubs to cluster and support each other at the regional level by creating campaigns, concepts and funding together.
We have currently set up coordination per region in South-East Europe, Central Asia (and Eastern Partnerships), South Asia and Latin America, with more developments underway. In this direction, the movement will share relevant best practices and fruitful opportunities.
Every year, MasterPeace organizes one of the biggest events in the world that celebrates the UN's International Day of Peace (September 21st). This is a unifying moment for all MasterPeace Clubs to raise more awareness about the urgency to build peace and to highlight the work of MasterPeace teams locally. Each time, the celebration engages hundreds of thousands of MasterPeacers with civil society, businesses and artists.