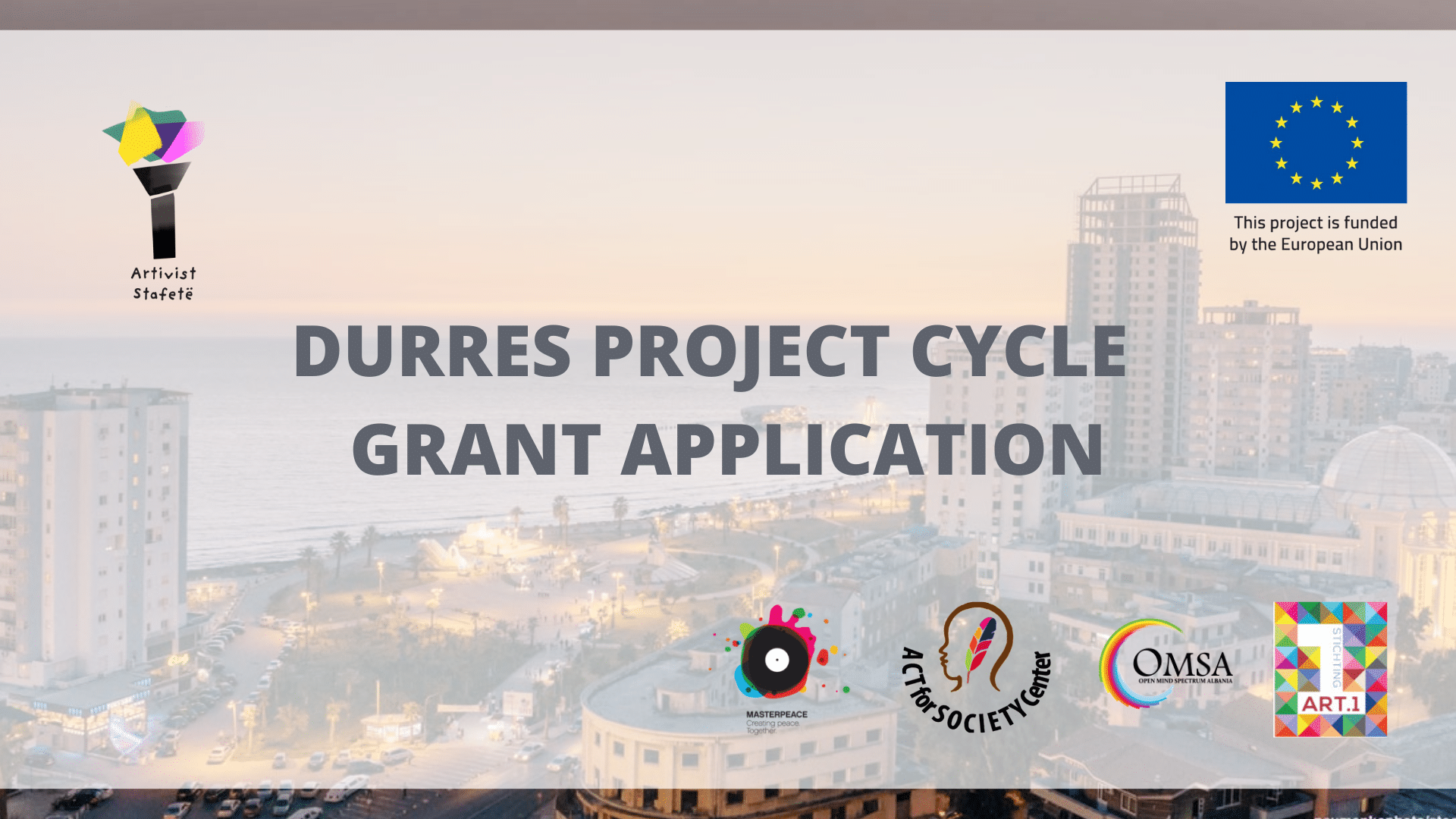 MasterPeace and Stichting art.1, along with their Albanian partners Open Mind Spectrum Albania (OMSA) and ACT for SOCIETY Center, conjointly announce the open call for the hosting of the Durres cycle, as part of the Artvist Stafetë project, funded by the European Union IPA/2020/421-822.
The project is a creative and innovative alliance that empowers Albanian civil society organisations and young people in their path to change and create social awareness on human rights, diversity and gender equality through the arts. Artivist Stafëte aims to make a significant contribution to the understanding of youth of human rights and democratic EU principles, within Albania's EU membership accession.
The application package including the "Guidelines for Applicants" and related information on the requirements and the application procedure is available in the following links: www.masterpeace.org : www.actforsociety.org , www.stichtingart1.nl and http://omsalbania.org/
The call will remain open until July 26th , 2021. Through the sub-grant scheme, the project will finance small-medium-sized projects, according to relevant thematic fields.
MasterPeace  aims to award one  project, which must fall between the following minimum and maximum amounts:
Minimum:  18 500 EUR
Maximum: 20,000 EUR
The deadline for submission of project proposals is 26 of JULY 2021
Applications must be submitted in English.
All activities within the action are therefore geared towards strengthening the CSO sector by:
1) granting it theoretical/practical skills in cross-cultural project management, thus facilitating collaboration and best practice exchange with prospective partners in the EU.
2) Granting practical skills in soft skill methodologies (podcast, film, storytelling, artivism ), related to creative expression and communication, thus facilitating actors in the field to bypass censorship and infiltrate the mainstream narrative, in turn increasing democratic representation.
3) The cycle will host a series of activities during the duration 3 months which includes:
– Hosting training: on four methodologies (podcast, filmmaking, activism and Walls of Connection)
– Creating a safe open space as a temporary (one month) creative hub as a physical space for participants to create their artistic productions.
– Creating different cultural presentations that showcase the artistic work of participants which includes (Film Festival, Femme Salons (TEDx-styled talks), studio-recording of podcast, Walls of Connection, and hackathons).
– Visibility actions, which include campaigning and (social) media presence.
This Call for Application will be submitted later on also in other Regions: Elbasan, Diber, Vlora, Korce, Pogradec and Berat in the upcoming period.
Who can apply?
All civil society organizations, organizations in the creative scene, and grassroots initiatives in Durres are welcome to apply.
Organizations with experience in activism and minority advocacy, organizations with experience in running cultural spaces and hosting cultural events are strongly encouraged to apply.
All applicants must comply with the project's code of conduct
 About us
Open Mind Spectrum Albania (OMSA) is an Albanian non-governmental organization established in 2013 with the main focus of its work being community work and advocacy for the LGBTIQ+ communities of Albania. It aspires to co-create an inclusive society for all Albanians, regardless of their sexual orientation, gender identity, ethnicity, age, social status and health status.
ACT for SOCIETY Center is an Albanian non-governmental organization established in 2012. The mission is to enhance healthy lifestyles and stimulate the sustainable development of society. It's work consists of promoting culture, advocating for democracy and human rights issues, connecting youth, stimulating active participation in social life as well as in decision-making processes.
With an established presence in over 40 countries around the world, Dutch organization MasterPeace works with three core activities, all of which aim towards a sustainable future with less conflict: 1) Mobilize, inspire and connect young local talents via music, art and play; 2) Organize dialogue and bring all local stakeholders together; 3) Create perspective through leadership trainings, capacity-building programs and starting up social enterprises..
Based in Amsterdam, Stichting art. 1 is dedicated to the visibilization and inclusion of minorities through the arts. By providing trainings in non-formal methodologies, the organisation seeks to provide tools and channels for sidelined voices to join mainstream narratives and democratic participation.
 How and when to apply?
To apply, you can fill in the application form which can be found here and send it by email to artiviststafetegrants@masterpeace.org
On the June  30th 2021, the project partners (Master Peace,Stitching Ar, Act for Society, and OMSA) will organize a 1-day info session for potential grant applicants to inform them about the Call and to provide guidance on developing successful grant proposals.
A prior announcement will be made in the following days for the venue, agenda etc.

Application Guidelines


Annex l Application


Annex ll Mandate


Annex lll Budget


Annex IV Logical Framework


Updated Corrigendum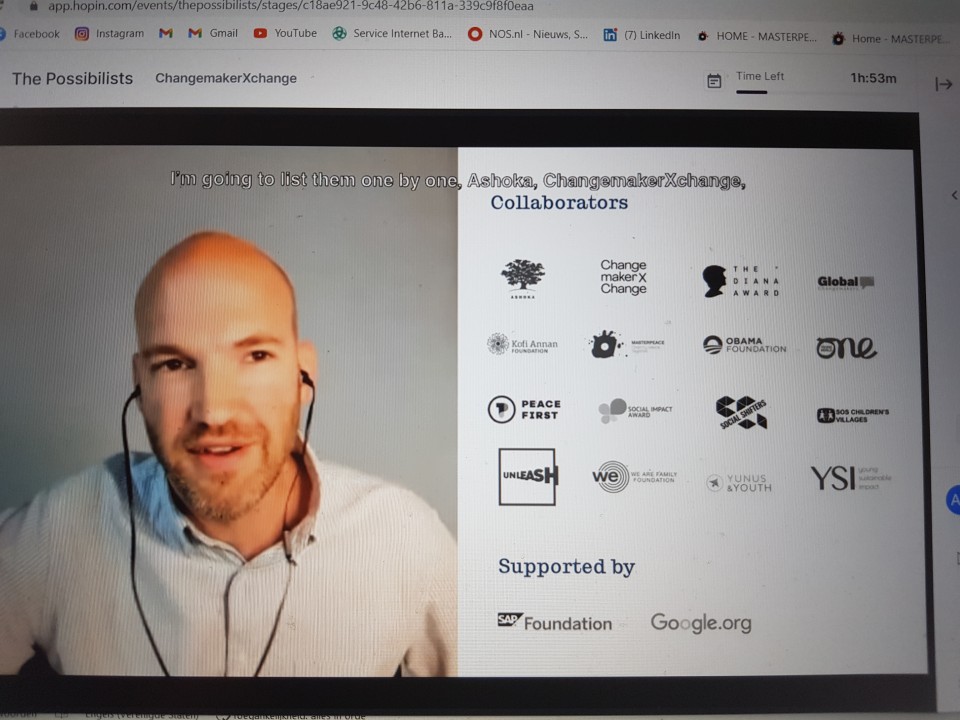 Young changemakers sacrifice their finanicial and wellbeing to change the world, new report says
Berlin, June 16 2021 - The Possibilists, a new study - the first of its kind - conducted by a global alliance of youth communities, reveals the pressing needs of young changemakers worldwide who dedicate their lives to social and environmental causes.
Young changemakers are resilient, innovative and intrinsically motivated to change the world and improve the lives of others. But, in doing so, they're sacrificing their wealth and wellbeing. MasterPeace believes there are 7 billion talents in the world. It takes you and me to step up our game and better support young people who dedicate their lives to social and environmental causes,"
The study surveyed a diverse group of about 800 young social innovators aged 16-35 from 137 countries who all lead impact-focused initiatives, social businesses, non-profits and campaigns related to every single one of the 17 UN Sustainable Development Goals, from lobbying for the rights of migrant construction workers to supporting sexual violence survivors.
Key findings from the report include:
• Young changemakers are sacrificing their financial security and wellbeing to change the world.
• Financial issues: 66% cannot compensate themselves beyond a token amount for their work on their initiatives
(41% not at all), and only 9% can live off their ventures.
• Wellbeing issues: 59% have experienced some degree of burnout since they started work on their initiative.
• 64% feel their work is negatively affected by systemic inequalities.
• The COVID-19 crisis has increased both their capacity and desire to make a change in the world.
• Only 3% have been forced to close down activities due to COVID; the majority are innovating,
adapting and responding to the challenge.
"If you want to spark change in the world and demonstrate what's possible, look to the youth for inspiration. The valuable impact that these social entrepreneurs are delivering can be attributed to their fresh perspective; the world has a lot to learn from their ingenuity and perseverance. SAP is proud to support this research, connecting people and information to accelerate solutions for the world's most complex challenges," says Alexandra van der Ploeg, Head of Corporate Social Responsibility at SAP.
"Young social innovators can play a key role in helping our societies recover from the pandemic and in building digital, inclusive and sustainable economies that work for everyone. Google.org is proud to support many young changemakers through our programmes and grants. We're also delighted to support this important research which shows that so much more can be done to help them overcome significant personal and financial barriers, and provide access to capital, skills and support networks to enable them to tackle some of the world's biggest systemic challenges"
~ Rowan Barnett, Head of Google.org for Europe, Middle East and Africa.
The participants in the study come from the different organizations supporting young changemakers; Ashoka, ChangemakerXChange, Global Changemakers, Kofi Annan Foundation, MasterPeace, Obama Foundation, One Young World, Peace First, Social Impact Award, Social Shifters, SOS Children's Villages, The Diana Award, Unleash, We Are Family Foundation, Young Sustainable Impact, and Yunus & Youth. The Possibilists is supported by the SAP Foundation and Google.org.
The report outlines eight recommendations for organizations to better support changemakers on a personal level
and in their work with their initiatives and organizations. Support programs for youth social entrepreneurship need to:
• Focus on young social innovators as people and on their personal needs and not just on their initiatives;
• Ensure the personal financial stability of young social innovators;
• Offer wellbeing support, and avoid placing additional or unnecessary pressure and demands on young social innovators;
• Strengthen the local–international connections of young social innovators and how their work helps to translate global matters into        concrete local action;
• Focus on working to reduce systemic inequalities;
• Give young social innovators a seat at the table by facilitating access to decision-makers and grant young social innovators access to      places of power and influence.
Initiated by ChangemakerXchange, The Possibilists is a global alliance of youth communities that are leveraging their resources and networks to improve the conditions for young changemakers.
Following the launch event on June 16, The Possibilists will kick off an open application process for innovators, leaders, funders, and policymakers from around the world who work on ecosystemic solutions that make it easier for young changemakers to be successful and create impact.
More info at: www.thepossibilists.org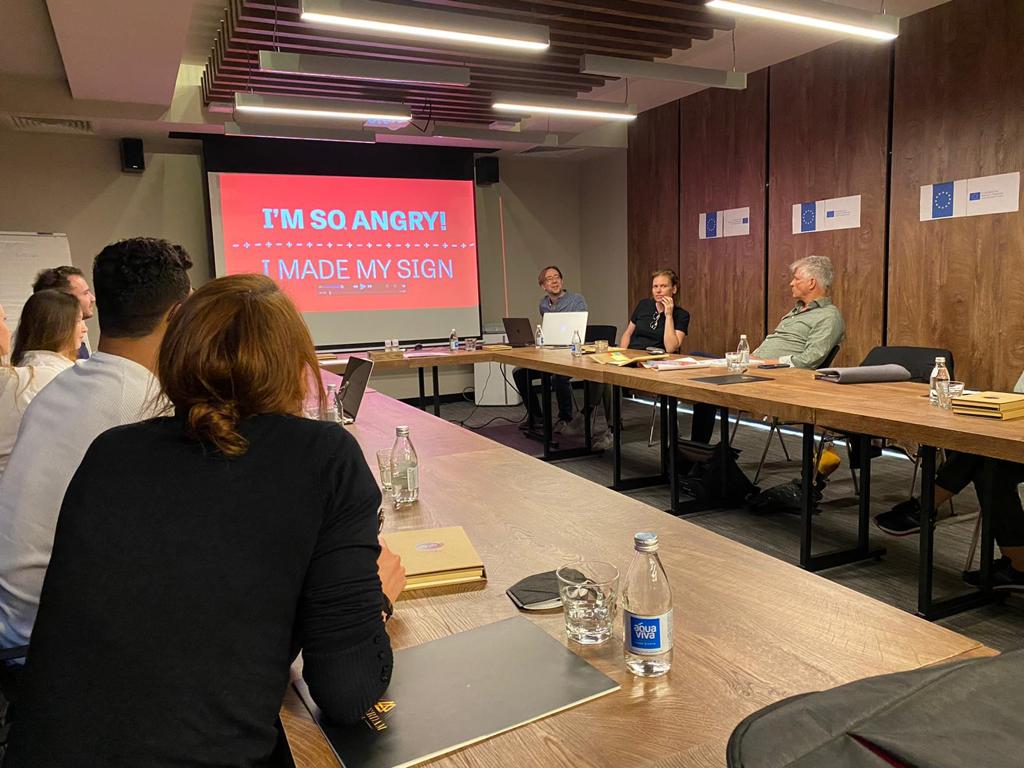 'That is Europe that we dream of! The project aims to understand how Europeans think of the future of Europe, amidst hope & fear
MasterPeace proudly kicked-off the first team meeting of 'My Future is Now' with the partners, Youth Power-Bosnia and Herzegovina, Youth Power- Germany, MasterPeace Romania, Peace Action Community Estonia PACE -Estonia, Act for Society Centre - Albania, Autres Directiones, -the Netherlands and OBI4WAN- The Netherlands.
The project aims to 'foster European citizenship and to improve conditions for civic and democratic participation at Union level'
A goal that these partner organizations have been working on in the past few years, however 'My Future is Now' focus on 'encourage democratic and civic participation of youngsters with lower education, who till now did not join any voting and community work and could be regarded as 'Eurosceptics'
The Program provide a chance to debating the future of Europe and challenging Euroscepticism
through the motto: Engage, Connect and Empower,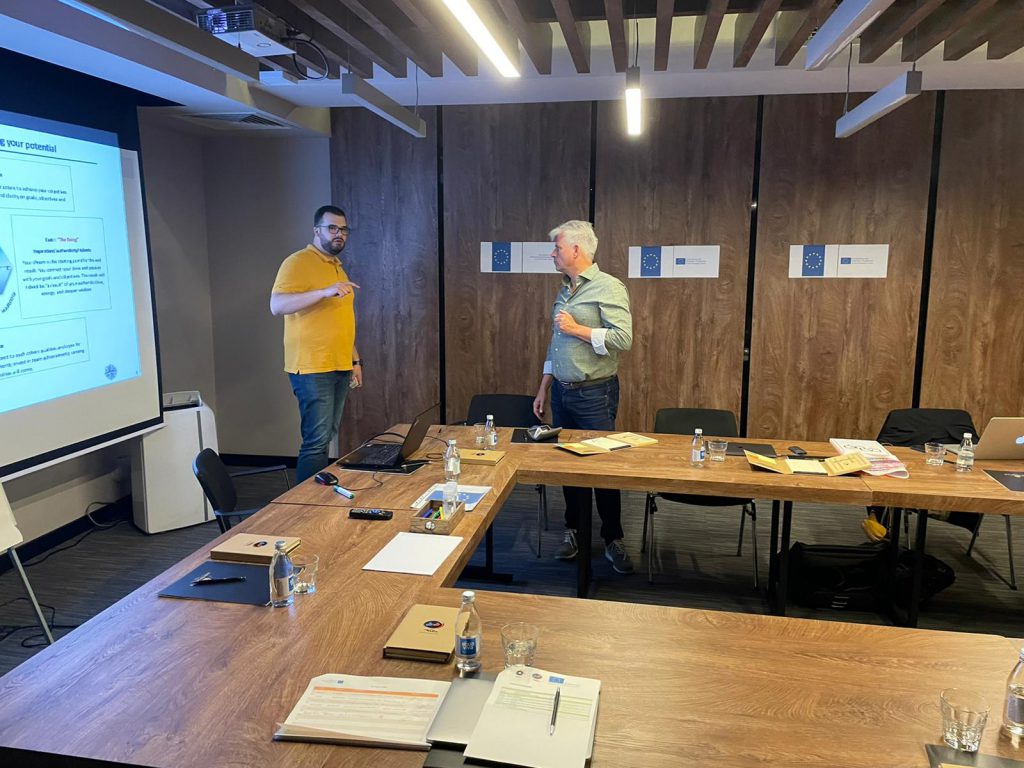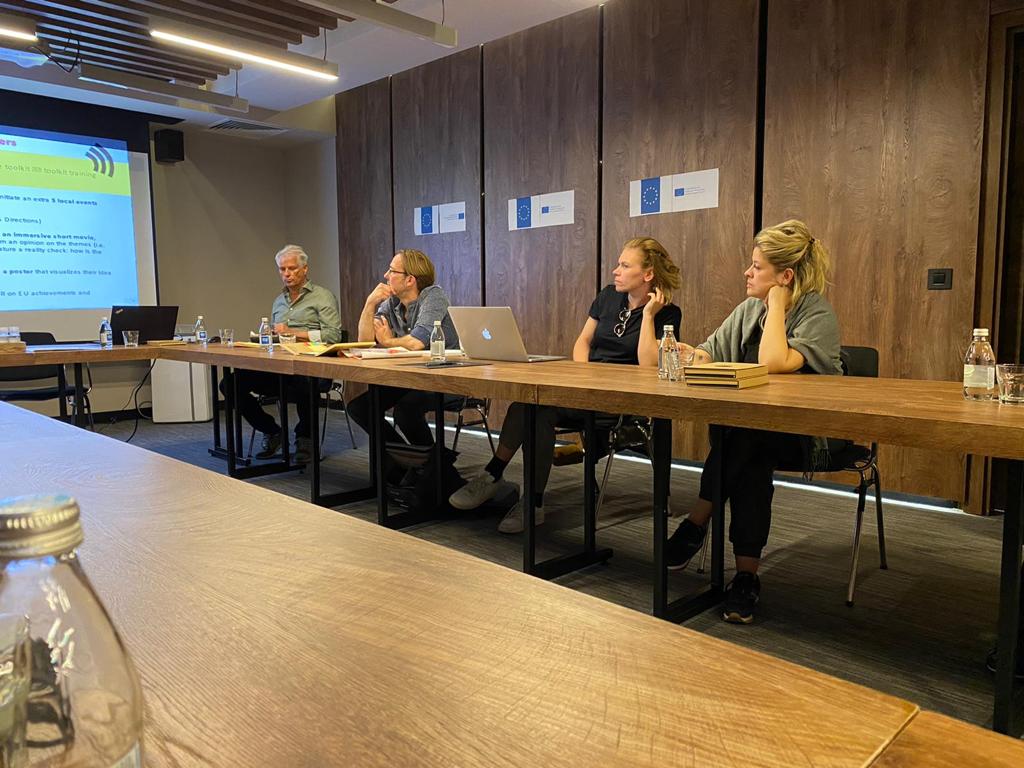 The project work to engage 915 direct (ages 30-65) and 600 indirectly involved youngsters. 
Through Three thematic dimensions (common tread in all 3 streams):
1- Jobs and livelihood: what's in it for me, brain drain or stay and build a future, digital transition
2- Migration & Integration: mobility, respect, inclusivity and human rights
3- Democratic processes: voting as right, freedom of speech, digitalization, fake news, social media, and privacy
STREAM 1 – My Voice Matters
1- Training tools  development of the toolkit  toolkit training:
- All partners will engage the target group + initiate an extra 5 local events with at
least 20 participants.
Interactive game

3 thematic dimensions introduced in an immersive short movie, where participants will be encouraged to form an opinion on the themes (i.e. 'does this exceed your limits'. All themes feature a reality check: how is the situation now in the EU?)

Participants will choose one topic to create a poster that visualizes their idea for
change.
- Participants will answer the interactive poll on EU achievements and challenges
STREAM 2 – My and Your Voice Matter
-  Each country will organize a Great Minds Meeting (GMM)
-  My Future- Relay (2b) - one program with 6 online exchanges.
The youngsters reached in stream 1 will connect, debate and exchange with their peers to understand their viewpoints on the 3 dimensions to be(come) an active citizen.
STREAM 3 - My, Your Voice and Beyond
To empower youngsters bring their voices to a new network to take actionable steps.
- "Week of Connection" Each day youngsters of a country are the hosting party and
youngsters from the other 5 countries participate.
Each day 1 of the 3 dimensions is the key theme to discuss.The fourth day is a wrap up and a manifesto movie with advices will be created to share in our networks. We bring their top 3 ideas per dimension into actions via platforms and integrate them in our portfolio.
- With the support of https://www.obi4wan.com/en we will use big data for so-called
"social listening". With their tooling we will -during the 18 months- aggregate online sharings by youngsters in the top 10 relevant online fora per country.
All
Africa
Americas
Asia
Europe
Global
Highlights
My Music Competition
Uncategorized