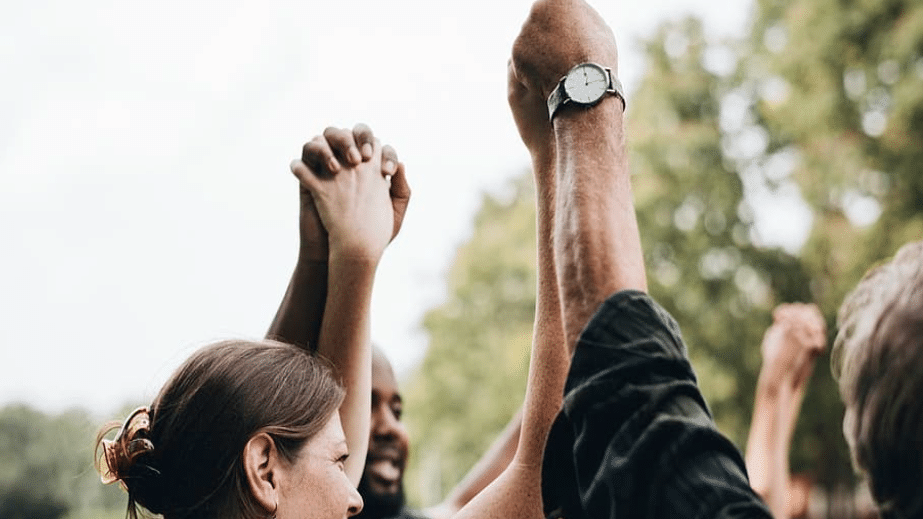 Entrepreneurship education for seniors and adults with fewer opportunities
Quite often salaries of the employed citizens, as well as the pensions for the retired seniors are not fully sufficient for the high costs of life in those "older" ages when their children have left households to live on their own and to pursue their own careers. More and more seniors and adults with fewer opportunities look for other ways of regular income, therefore, they are positive towards entrepreneurship opportunities, as they see self-employment as a valuable and appreciated option.
A year ago, in frames of Cooperation for innovation and the exchange of good practices of Key Action-2 by Erasmus+, 6 organisations from the Netherlands, Croatia, Serbia, Sweden and Germany gathered to deliver a new project targeting the needs of senior people and other adults with fewer opportunities in qualitative entrepreneurial education (SDGs 4, 8, 10 and 11).
Over 50 teachers and trainers will participate in educational activities and test intellectual outputs
on over 120 seniors and adults with fewer opportunities.  
Motivation of partners in this project is to "equip" seniors and adults with fewer opportunities with set of skills needed to work on personal development in fields of entrepreneurial intelligence and creating (self-)employment opportunities proactively in today's reality of employment uncertainty and the world of extinction of many known jobs and occupation now and even more in the future. 
These objectives are to be achieved by empowering adult educators in theory and practice for building necessary competences in entrepreneurial intelligence and mind-set development (including intrapersonal and interpersonal social-emotional and creativity competences). 
The outcomes of this project include following activities and publications: handbook on entrepreneurial learning for adults; curriculum and a training course for adult educators; three E-learning courses for target audiences and open for public conferences in the Netherlands, Croatia, Serbia, Sweden and Germany. 
Masterpeace's experts in education participated in writing of all intellectual outputs. However, this story is devoted to one of the most interesting and inspiring topics that is presented in the "Guidebook with Curriculum: Empowering adult educators for Entrepreneurial learning, Intelligence and mind-set development among seniors and adults with fewer opportunities".* Here we share to the public: teachers, trainers, coaches, other adults' educators and anybody interested in developing entrepreneurial mindset, - the materials for workshop "The leadership model of the Flow Compass as a way to develop interpersonal skills supporting entrepreneurial activities".
---
* As soon as the guidebook is ready for publication, you will also find a link to it here.
https://www.youtube.com/watch?v=CJAuv7TopqA
Flow Compass - a guide to unleash your potential
The model of the Flow Compass was invented by a Dutch entrepreneur, business advisor and inspirational coach Jan Pieter van Lieshout. He uses it to lead individuals to the realization of their strengths and achieve their personal and professional goals. Likewise, the Flow Compass model is used to help organizations to evaluate the potential of every team member and set the strategic course where the combination of qualities contributes to the success.
To explain the Flow Compass leadership model we use the metaphor of the 4 Compass directions: East, South, North and West.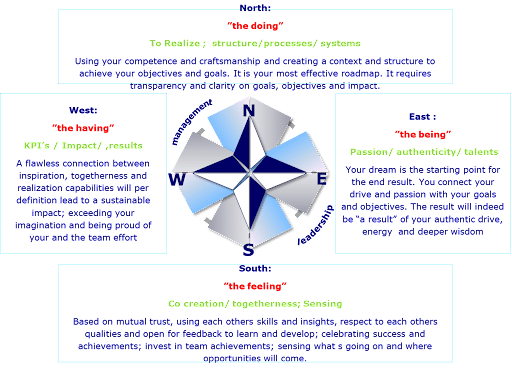 The West symbolizes the result, the objectives, the quantitative and qualitative KPIs. We frame this as "having". The "having" is not a process, but an end-result of hard and committed work.
However, the best way to achieve the results and objectives is to start with the East: your passion, your inner drivers and values. The metaphor of "being" supports the dialogue with yourself first and then with your colleagues and partners. When you make decisions based on what is in your East, you will come to realize your passion and ambition.
From the East the flow goes to the South that symbolizes "feeling". The South addresses the qualities of empathy, sensing opportunities, the deep belief in abundance and surpassing the fear of competition or scarcity. It also stands for co-creation. In this step you reflect with the other colleagues, project team members and partners: what do we see and feel as opportunities, what are your strengths and what are the topics that you do not feel comfortable with to achieve the best result.
The North symbolizes the "doing", organizational structure, the LEAN processes and operational systems. This is about planning and deadlines.
Maybe, this is the most difficult part of the journey - the curve from South to North. It bridges the dimensions of Leadership (being and feeling) with the Managerial (the doing and having). Both qualities are needed to build a successful organisation and to flourish in your private and professional life.
The "being", "feeling" and "doing" will result in a "having" and the result is very likely to be different than planned. It confirms the idea that the true innovation can not be calculated and exactly designed according to the plan, but can only appear from the unknown. This non-obviousness of the final result seems to be the essential characteristics of the contemporary business theories that is noticed by many change makers and advanced business leaders. 
We might say that East and South represent the Leadership characteristics and North and West the Managerial, however, it is the unique combination of the four that results in great success.
Downloadable materials

Power Point presentation


Flow compass A3 PDF


Flow Compass A4 PDF

More reading on this topic https://masterpeace.org/we-are-successful/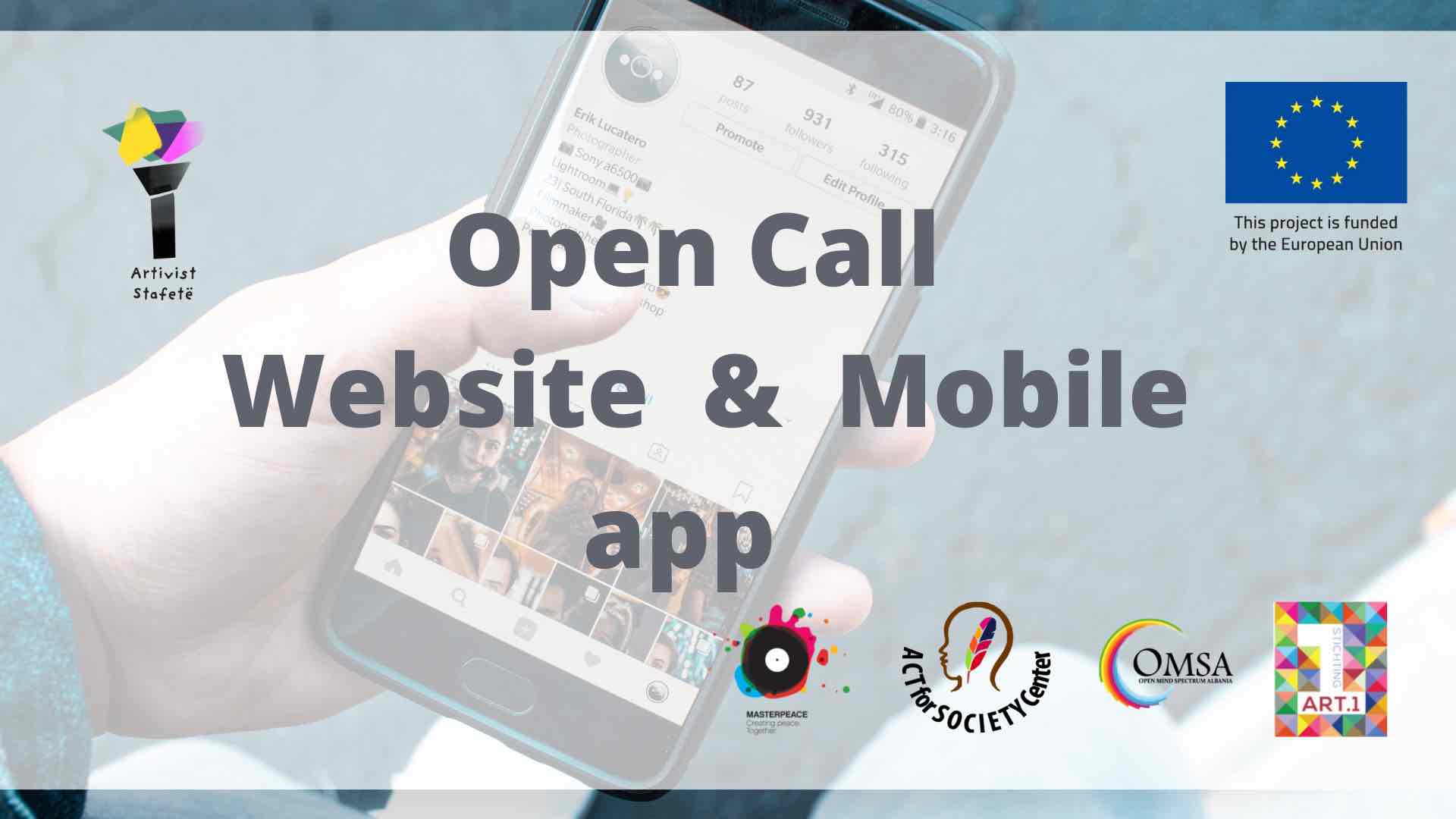 "Artivist Stafëte" is a project funded under the grant for Support to Active Citizenship by the European Commission and is funded by the European Union. The project is implemented locally by Dutch organizations MasterPeace and Stichting art.1, in partnership with Open Mind Spectrum Albania (OMSA) and ACT for SOCIETY Center. This project aims to improve the environment for active citizenship and civic participation by providing civil society sector organizations (CSOs) with tools to grant-marginalized groups and side-lined voices in Albania with instruments to infiltrate the mainstream narrative and democratic dialogue at a local, Albanian and European level.
What is Website & User-friendly Mobile App
The duration of the artivism productions are related to the project implementation involving all rotating cycles and these productions are implemented by other CSOs supported .
- Applicants must have experience creating state-of-art website & maintenance of the page
- Ability to coordinate with sub granted partners and answer their requirements during project implementation
-Applicants must have experience in hosting interactive web pages & mobile applications, with experience to make online tools interactive and engaging for users to utilize.
- Constant updates of the website and mobile application with content about the project and different news, updates, and materials related to the project
- Ability to attract participants from the target group and potential activities, by creating online
communities that are engaging to the target group.
- Part of an interactive network of other CSOs that could be invited for training and activities during project implementation
Deadline: 18th of October 2021
(changed)
Available Budget
The available budget for the website and mobile application sub-granting is of :
- Website Development is 11 300 EUR
- Mobile Application ( digital artivism application ) is 10 500 EUR
Payment allocations are to be made after contract signing
Eligible Applicants
The current Call for Proposals seeks to support  applications that can be combined as a consortium of CSO and private ICT company OR a partnership between CSO and a private company, OR CSO  that would provide mobile applications and website application  as separated services from one to another and that are willing to engage as  service providers to our target groups including hosted activities on advocacy, citizenship  action as our main core of the project, working in the following thematic areas:
Applicant's main tasks, responsibilities, and competencies ( among others)
Main tasks:
Successful applicants will be in charge of creating the web development and web- maintenance. This entails the timely implementation of all programming, design and connectivity details throughout the grant's duration.

Successful applicants will be in charge of creating the front-end mobile app development and monitoring application throughout the grant's duration

Successful applicants will be in charge of the on-going administration of the web  space, as if , therefore ensuring the appropriate use of the web & mobile application , ensuring the timely distribution of information to its users, and the overall user experience within the space.
Competences:
Applicants must have proven experience in online interaction and engagement, as well as in the recollection and processing of traffic and user feedback with which to implement a constant improvement of the space's usability.

Likewise, applicants must have proven experience in creating, maintaining and developing user- friendly mobile application.
Please note that the deadline is 
30th of September 2021 
For more information: We will host an (online) info session on 9th of September 
How to apply?
To apply, please fill in the application form, which can be found here, and send it by email to
artiviststafetegrants@masterpeace.org
For further information regarding this call, the procedure of application, and criteria of selection, please contact
artiviststafetegrants@masterpeace.org

Proposal Guidelines


Annex l Application


Annex ll Budget


Annex lll Logic Framework


Corrigendum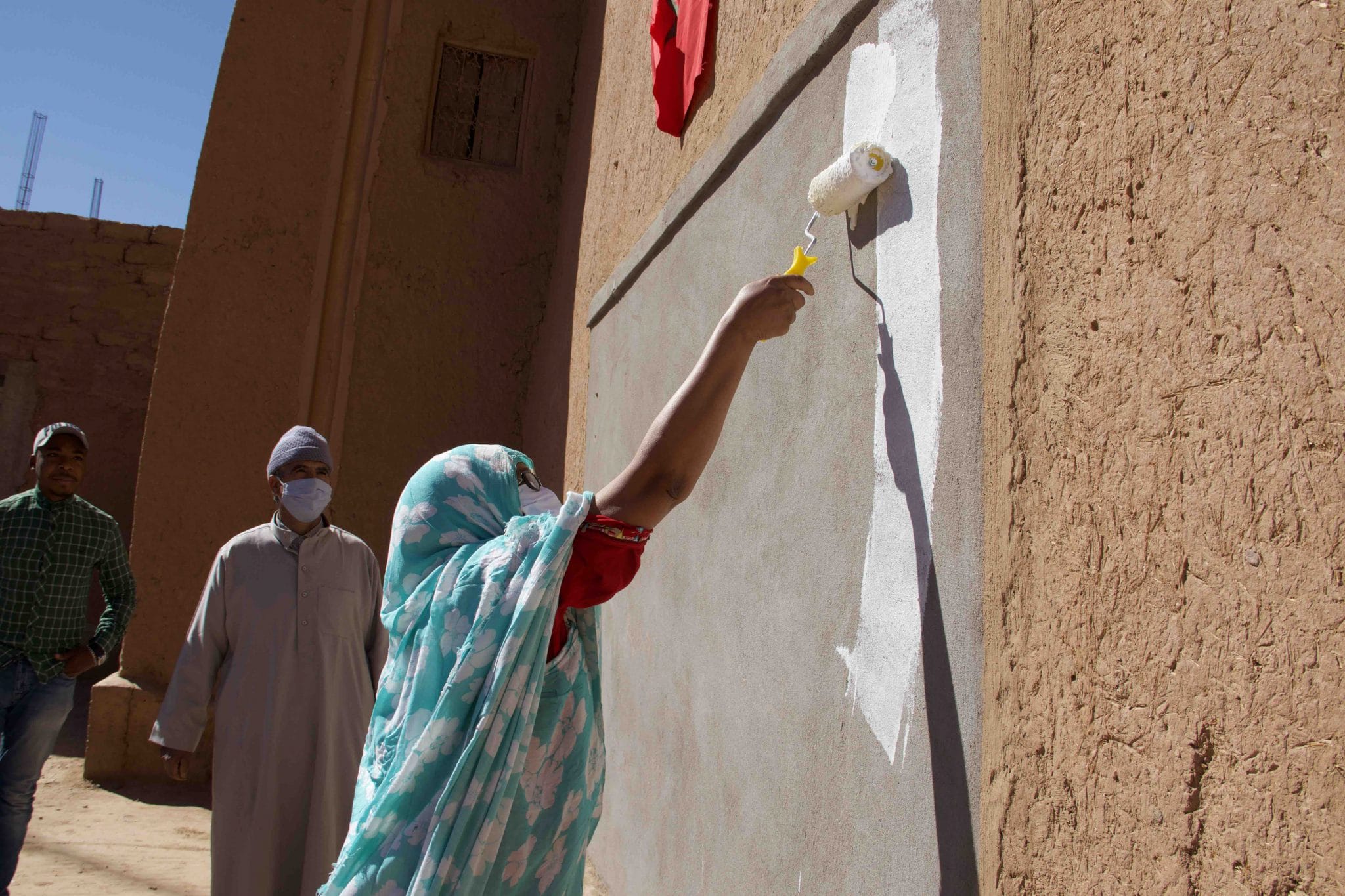 Almost six years since MasterPeace launched its successful project 'Walls of Connection', it became even more relevant now than ever before, as millions globally stayed behind their four walls as a result of pandemic lock-downs.
With its aim to transform walls of separation into walls in connection using creativity and art continued, Walls of Connection in its ACT! Edition across the five countries of Albania, Bosnia and Herzegovina, Georgia, Morocco, and The Netherlands provided a physical and virtual vehicle for thousand of participants to share their 'dream of their city' post-COVID-19.
The project worked on extending the version into the virtual sphere, working with local artists, designers, educators, and social workers to successfully transform the components of pre/post painting community dialogue, collective street art visualization into an online activity.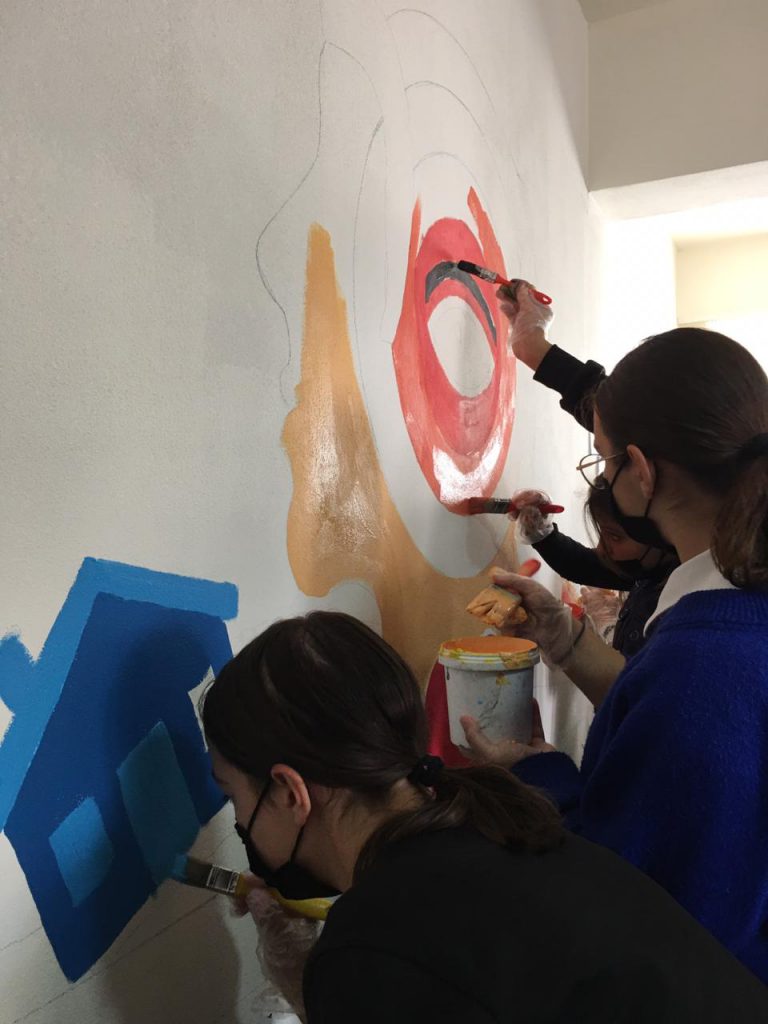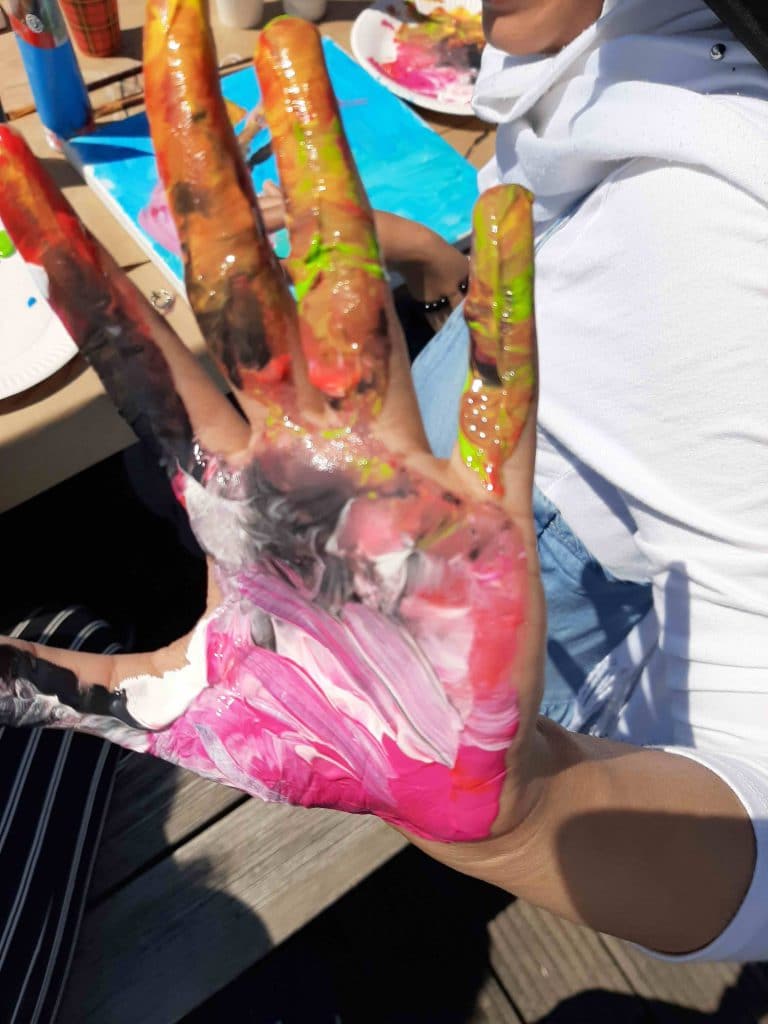 For the project, guidelines, toolkits and methodologies were developed on how to create interactive virtual experience, such as toolkits on encouraging the community to paint in distance their 'dream of connection' being between four walls.
Walls of Connection adopted to COVID-19 pandemic, not only as a methodology but thematically as for example, many of the vitalizations came as a support to the medical community (like in Georgia, one of the Walls was a 'node of appreciation' to medical teams working tirelessly in hospitals.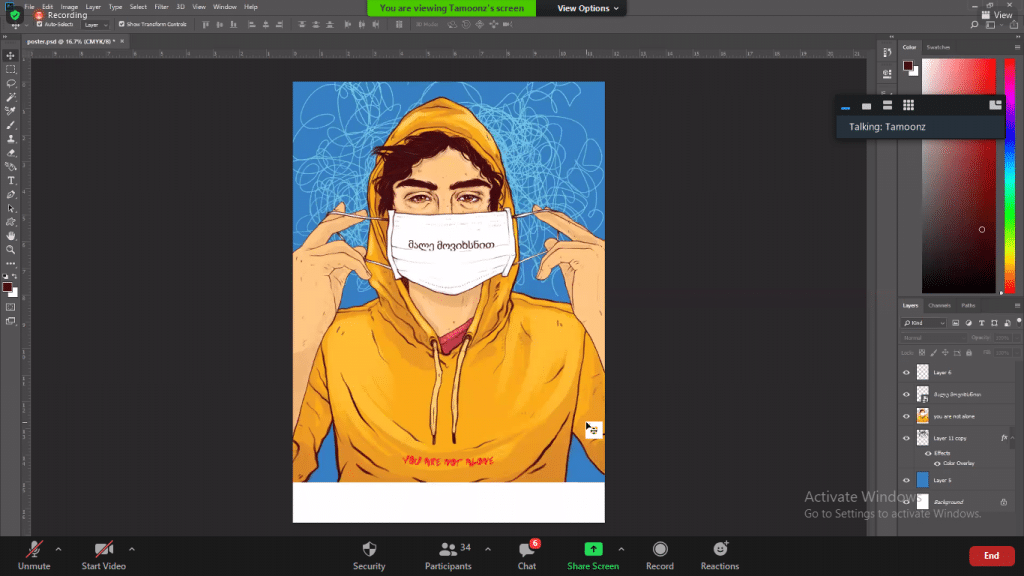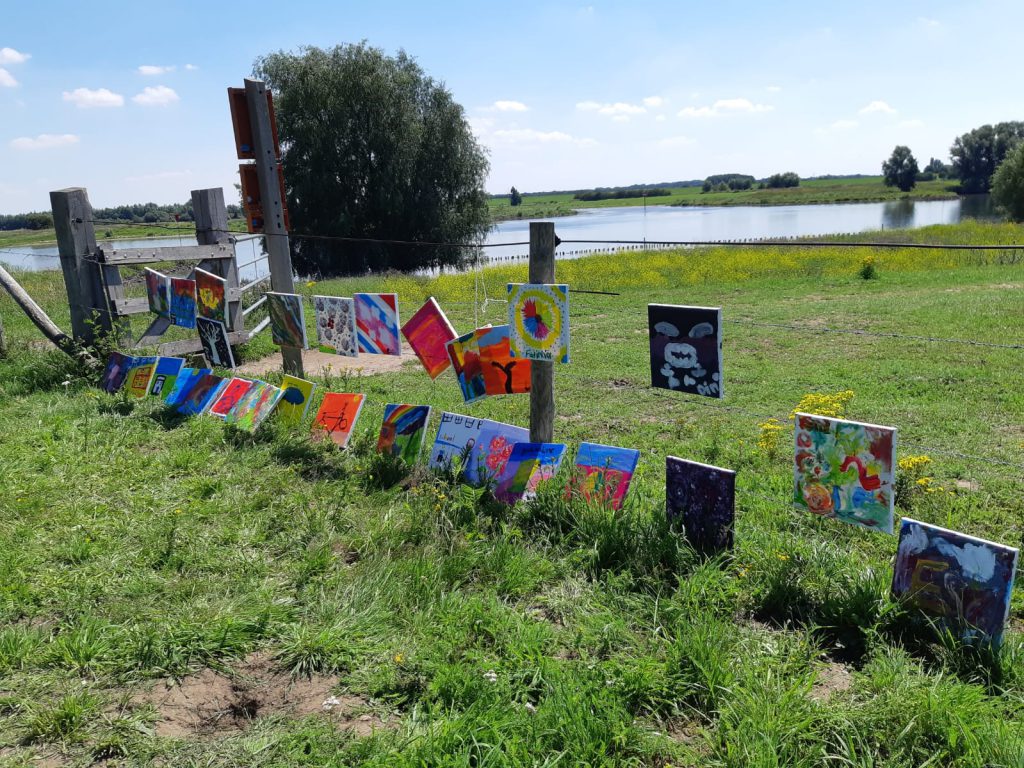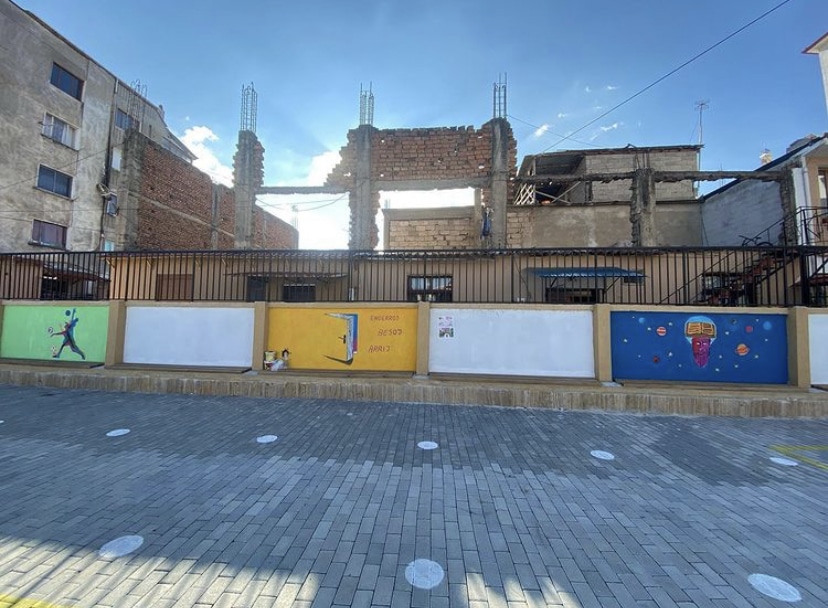 The project in the second year has trained 418 graffiti artists to paint 51 walls in the five countries, some were virtual walls through series of webinars and workshops and many were physical with some live-streamed to engage a wider community. The walls were painted through 4803 community members engaged in pre-painting dialogue with an almost equal number of post-painting which is the step of engaging stakeholders, municipalities, schools and youth representatives
The project was timely, as participants felt isolated at home between four walls. They needed connection and creativity, using their imagination to connect beyond these walls to their community members and even beyond their own countries.
All
Africa
Americas
Asia
Europe
Global
Highlights
My Music Competition
Uncategorized