Nepal: "Hear the Unheard" - stories of Nepal
On the occasion of International Day of Peace 2020, Peace for People and MasterPeace Nepal jointly organized an event "Hear the Unheard: Stories of Nepal" on 21st September. The day was celebrated with merry-making across the globe. 
Hear the Unheard: stories of Nepal held the concept of listening to the unheard voices of individual residing here in Nepal. The concept was initiated to address the critical time of COVID-19 when people have become vulnerable to mental stress and dissatisfaction as everyone wants someone to listen to their stories. It was a platform where they could share their stories, talents, grievances or anything that they felt like talking about. As the world is well aware of the current circumstances of COVID-19, the day was bound to be celebrated virtually.
A total of 45 participants from different parts of country were joined virtually via Zoom in the event. The program featured stories of 8 storytellers – Yonjom Sherpa, Anup Magar, Sanket Bashyal, Kalpana Karki, Shivanath Raut Kahar, Kamala Thapa, Rita Pariyar and Ram Shahi, as well as yoga by Sudarshan Joshi, poetry/jokes by Bishnu Gautam and musical performances by Bhuvan Bhattarai and Ritu Shrestha.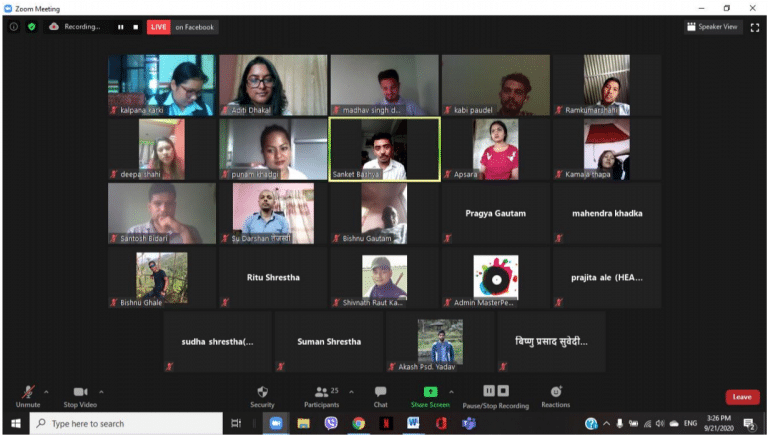 Santosh Bidari, President of Peace for People and Head of MasterPeace Nepal, said, "Most people today have a problem, and when they think about it, they gradually get used to suppressing their feeling because some of our social values do not allow us to express our feelings openly. So the cases of suicide and  depression are increasing day by day. Hence, I believe sharing your story makes you feel relieved from whatever problem you're strolling through." 
Sanket Bashyal, one of the Storytellers and from LGBT+ community himself, shared – "If you come across anyone who is from LGBTIQ community, then please  don't discard them on the very first sight rather embrace them with the same love and care to help them come out."
Similarly, Rita Pariyar, a social activist shared – "We are living in the advanced time of the world where all the human rights are being highly practiced.  However, there are some practices like untouchability, caste based discrimination still prevailing in our society. Hence, through this platform, I want to tell people that I stand against any kind of discrimination and I stand strong for equality." 
The event collaboration-partners were – Rotaract Club of Birgunj Metropolis, Youth for Nation Kathmandu, Mahuri, Cirds Nepal Dhading, Team Nepo District Team of Parsa, Peace4Dalits Foundation Nepal, Peace for People France, Nepal Online School, Dynamic Youth Club Kohalpur Banke, District Children's Club Coordination Network Parsa and Laalpari. Likewise, Damak Online, Daymind Digital, HD Zee Nepal, Nepal Reports and Nepal Post Daily were the media-partner