MasterPeace Pakistan's Holistic Approach to Gender and Climate Justice
Our MasterPeace club in Karachi, Pakistan, has been actively implementing practical initiatives aligned with the Sustainable Development Goals (S.D.G.s) within diverse communities. A significant area of focus has been promoting Gender Equality and empowering women through various activities. Moreover, the detrimental impact of recent floods and heatwaves has hindered the country's development process, leading to the internal displacement of over 30 million people due to flooding as of 2022. Recognizing the urgent need for action, M.P. Pakistan has already taken measures to enhance community resilience and develop capacities to address the consequences of climate change, with the ultimate goal of creating a more sustainable Earth, a COOL Earth. Below, you will find some remarkable achievements of our club.
Planting Seeds for a Greener Future
MP Pakistan's "Invest in Our Planet" climate campaign aims to increase public awareness of the value of protecting the planet's natural resources for coming generations. As part of this, school and university-level students are involved in the initiative by sowing the seeds of the fruits, they consume in their homes or nearby gardens. With the arrival of spring, many seasonal fruits are available from March to July, making it an ideal time to plant fruit seeds. Children may learn the value of protecting the environment and the effects it may have on future generations by planting these seeds. 
This effort supports SDG13, which addresses climate change and encourages sustainable living to lessen its consequences. MP Pakistan aspires to positively impact the environment and motivate future generations to take similar action by pushing the younger generation to do so.
"Engaging and making young people aware of climate action is essential. If we invest positively in our planet, the return will be sustainable and healthy"- Kelash Sarhadi, MP Pakistan.
Focus Group Discussion: Strengthening Inclusivity and Advocating for Transgender Rights in Pakistan
On 3 May 2023, MP Pakistan visited the Trans Pride Society, a group of Trans people, at Mehran Hotel, Karachi. This society is led by Nisha Rao, who has led several initiatives of Education, Medical Assistance, and Rations Distribution for transgender people. 
The meeting had around 75 plus participants and served as a forum for discussion between USAID personnel and Peace & Justice about how to advance the welfare of Pakistan's transgender minority. M.P. Pakistan has reaffirmed its dedication to supplying rations to enable transgender people to satisfy their necessities, as well as education and medical aid.
A significant step in advancing inclusivity and fighting for transgender people's rights in Pakistan, this initiative demonstrates a potential for improving the lives of individuals in need through dialogues and advocacy.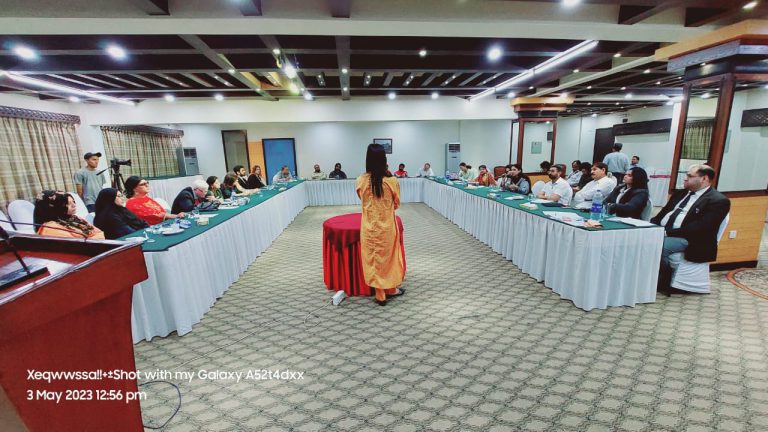 Empowering Girls with Professional Beautician Training
Collaborating with renowned makeup artist and trainer Asha Lalwani, MP Pakistan, provided 20 less privileged girls a unique opportunity to learn the art of professional beautician training. The three-month training program, free of cost, aimed to empower these young girls with the necessary skills to support themselves and their families. The training program will be finished by January 2023.
The training program covered a wide range of topics, including facial treatments, hair styling, manicures, pedicures, and waxing techniques. Using hot and cold wax, the girls were taught to provide complete beautification services to their clients, which are essential in the beauty industry.
MP Pakistan strongly believes in empowering people; this initiative is just one example of how they do so. The program provided these girls with a means to support themselves financially and gave them the confidence to pursue their dreams and aspirations.
"I didn't know much about beauty and grooming, but now I feel confident in my ability to provide these services to others. I can't wait to start my own business and help support my family",  says one of the training participants. 
With initiatives like this, MP Pakistan is committed to promoting equality and empowering individuals from less privileged backgrounds. In line with SDG5 and SDG8, the program was a resounding success, empowering girls to build a brighter future for themselves and their families.
Free Thalassemia Awareness and Testing Center in Karachi
In collaboration with Saylani Welfare Trust (SWT), Pakistan, and Sindh Government, MasterPeace Pakistan announced the opening of a Free Thalassemia Awareness and Blood Testing Centre in Karachi, Pakistan, on 7 March 2023. Thalassemia is an inherited (i.e., passed from parents to children through genes) blood disorder caused when the body doesn't make enough of a protein called hemoglobin, an essential part of red blood cells. Dr. Muhammad Naeem, Sindh Government District Health Officer, expressed his appreciation for M.P. Pakistan's innovative initiative in addressing this critical health issue among the youth.
One of the first in Karachi, this significant project aims to spread knowledge about the condition and open access to free blood tests.