MasterPeace Walk South Africa 2024

ENGAGE with nature, other cultures, history, and yourself
EMPOWER local social entrepreneurs, projects and communities
Are you at a critical-juncture in your life?
In search of new, or more meaning to life?
This nature-walk in South Africa provides the perfect setting for self-exploration with
Nature as the Prophet.
The multi-cultural group will ensure a Disconnect from comfort zones and Opening of new Insights and a Worldview.
 Participate in a unique 10-days experience in the Western Cape Province. Enjoy the company of a group of about 15 international and 15 local participants sharing interesting discussions about life and dreams. Join us in discovering South Africa beyond the touristic areas!
We will hike for 6 days where we will live and sleep in tents in nature. At the beginning and at the end of the walk we will stay in hotels.
Learn about South African traditions, realities, culture and rituals; discover the work of the local MasterPeace team; disconnect from the hectic western civilization and luxury; reconnect with the nature and yourself; experience the impact of silence, storytelling, sharing and reflection; walk roughly a total of 100km; enjoy a healthy environment and traditional fresh food; add value to the local communities.
Go home with new experiences, friends and unforgettable memories.
Date: 6-15 March 2024
Area: Western Cape Province, South Africa
Costs: €1850, – (excl. travel)
The Walk is hosted by Nico de Klerk, local leader of MasterPeace South Africa, his team and two experienced MasterPeace walkers.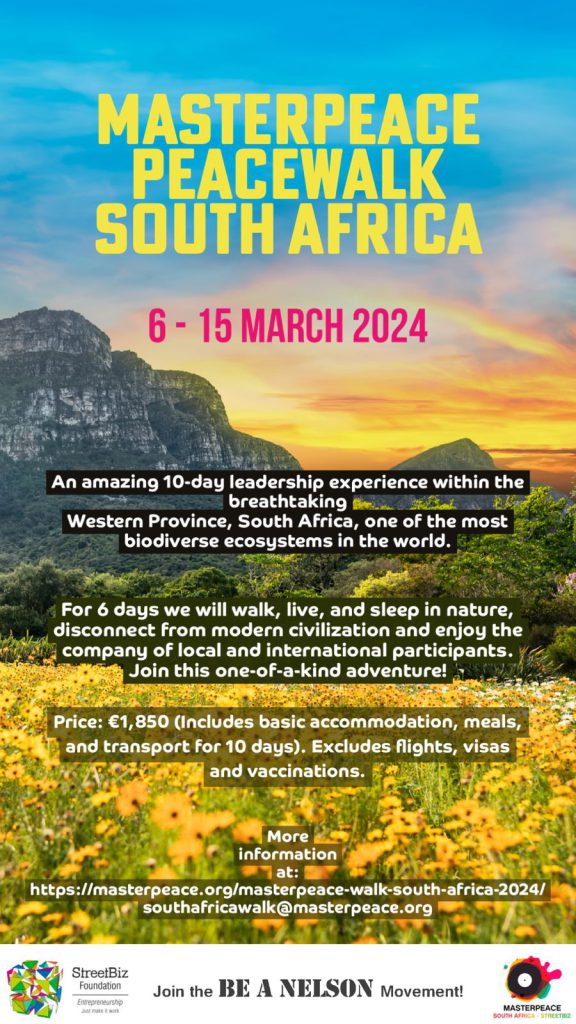 Organized by
Rute Lau
(on the right in the picture) and
Teresa Urbanowska
(on the left) walked as participants in the MasterPeace Walk in Masaailand in 2017 and in Nepal in 2022 and loved the experience.

Nico de Klerk
is the leader of
MasterPeace Streetbiz South Africa
. "We have Nelson Mandela's legacy to build on and to share that with the world, as he belongs to the world. Therefore, the
Be a Nelson Movement
, a MasterPeace concept as well, to promote unity, reconciliations and peace. We have so much to share with you during this walk."

Contact details for more information:
Video of the MasterPeace Walk Nepal 2022