Strengthening Climate Change Reporting: MP VIEWS Empowering Journalists for a Sustainable Future
Journalism plays a crucial role in tackling the challenges of climate change by providing essential information and raising awareness about climate change. With the growing threat of climate change, the discourse around it is increasing, so is the misinformation and disinformation around it. Thus, it has now become crucial for the journalists to equip and familiarize with them the concepts and terminologies around the subject and report with accuracy – by distinguishing fact from fiction. In an attempt to address this complex link, the second workshop for the journalists working in the Odisha media industry was organized on April 29 and 30, 2023 in collaboration with the U.S. Consulate General Hyderabad at Hotel Presidency in Bhubaneswar.

Reporting on climate change involves documenting its long-term effects, encompassing various aspects such as socio-economic factors, gender, health, food security, and the well-being of land and marine ecosystems. It is, henceforth, crucial to provide comprehensive and accurate information about these impacts in order to foster greater awareness and understanding of the challenges posed by climate change. Through the organization of this workshop, MP VIEWS aimed to enhance journalists' understanding of climate change issues, assess the effects of climate change on specific sectors for story development, provide training to vernacular journalists for accurate and comprehensive climate change reporting, and empower journalists to produce impactful reports that generate awareness and stimulate public discourse.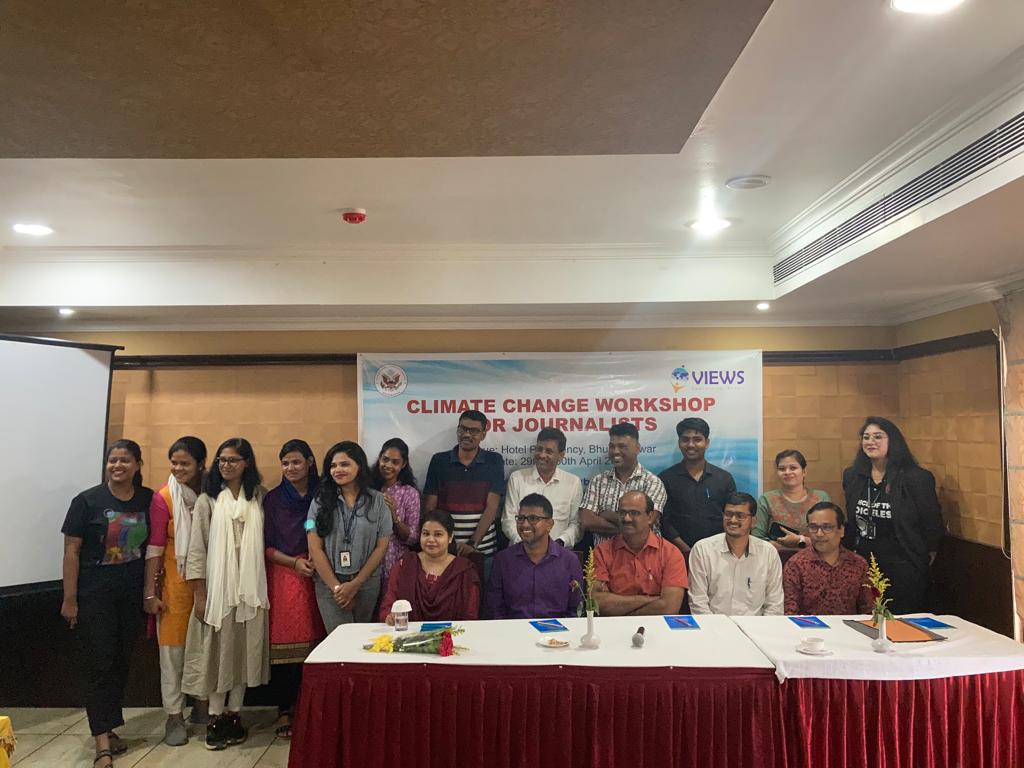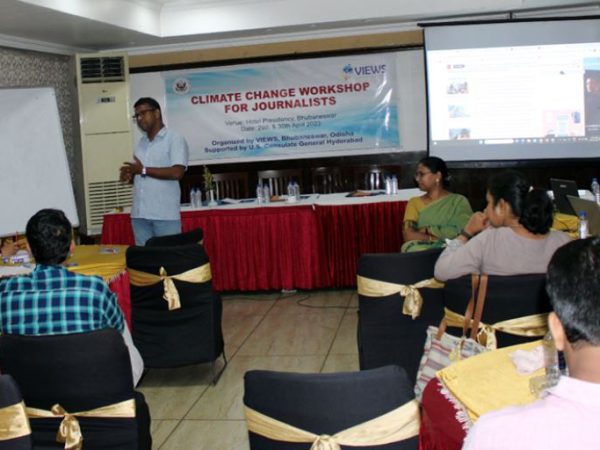 The 2-day 16-hours long workshop, which was a part of a 10-workshop series, had a participation of 18 journalists from different media platforms, and consisted of 7 different sessions, which were led by experts and professionals from the respective fields. Each sessions focused on following topics:
1) Migration and Climate Change Reporting
2) Impact of Climate Change on Education
3) Sustainable Agriculture Practices
4)  Climate Terminologies and Coastal Ecology
5) Climate Change Reportage: Scope and Opportunities
6) Reporting Disasters from the Ground
 7) Tenure and Climate Change
"Migration in Odisha is not just a matter of movement, but a complex interplay of climate, disaster and human vulnerabilities. Addressing the key challenges of databases on hazards, risk-informed development, community resilience and effective policies can help mitigate the triggers of migration and secure the future of men, women, youth, children and other vulnerable communities in hotspots of environmental fragility and conflict."
Mr. Umi Daniel, Director, Migration and Education, Aide et Action International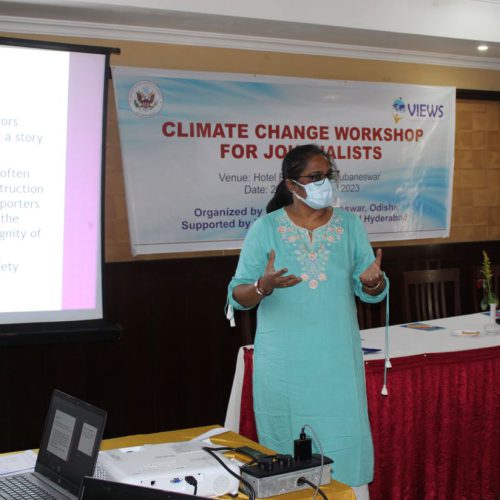 The event gathered excellent media coverage across various platforms, highlighting its significance in climate change reporting. Such widespread attention through articles in leading newspapers daily, news coverage in state television channels, and social-media coverage not only raised awareness about climate change issues but also sparked broader conversations and engagement among the public. 
This workshop demonstrated innovation through its technical approach, which examined the impact of climate change across various sectors. The workshop fostered a multidimensional understanding of the issue by allowing participants to analyze climate change through the lens of agriculture, education, tenure, and migration. Following the second workshop, a series of online sessions will be conducted, continuing the exploration of impactful topics. Considering participant feedback and resource person suggestions, there are plans to arrange a field visit for journalists to provide hands-on training. Being aligned to SDG13: Climate Action, this initiative has the transformational potential of mobilizing and equipping journalists with the necessary knowledge and skills to effectively communicate climate change issues, fostering informed public engagement and inspiring action towards a more sustainable future. 
Read more about
#COOLeaders
by clicking below