A Film Festival on Gender Diversity and Inclusion in Nepal

In an era where passionate changemakers around the world try to raise awareness and bring an end to gender based harassment and abuse, film continues to be one of the most powerful tools through which to reach people. This past June 2nd and 3rd, 2022, MasterPeace Nepal Dajju Vai helped organize a gender-based film festival, "4th Sambhav Travelling International Film Festival on Gender Diversity and Inclusion" in Kathmandu. The event was organized together with Men Against Violence & Abuse (MAVA), an NGO from India.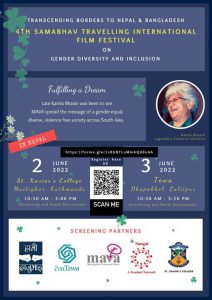 The selected short films, features and documentaries on the festivals represented wide range of gender and sexual themes:
1. Gender based discrimination and violence against women
2. LGBTQIA issues, homophobia and transphobia
3. Challenging misogyny, toxic masculinity and matriarchy
4. Intersectionality
5. Gender binaries
6. Acid attacks on women and their survival story
In both days, an interesting panel discussion with experts were major highlights where gender issues and challenges were comprehensively discussed along with possible measures for addressing these issues. Furthermore, the interative conversation brought together youth, students, CSOs leaders and others, in an exchange of ideas and experiences based on the topic raised by different films and contexts.
The two-day festival was held in St. Xavier's College, Maitighar on the 2nd of June and in TEWA's office in Dhapakhel. Over 600 people directly witnessed the event. Resource Mobilizer for MasterPeace, Mr. Ashwini Dhakal, attended both days and shared his positive experience with core-team members and across the MasterPeace networks. Organizer, Mr. Kaustav Pokharel, MasterPeace Dajju Vai Leader and Gender Equality Advocate, reflects regarding the program:
"Different film festivals are held in Kathmandu on various themes, but a festival of this nature is probably the first of its kind in Nepal where all films are focused on gender issues." He further added, "We received lots of positive feedback and support and we hope to turn this film festival of gender diversity and inclusion into a regular event in Nepal like many other film festivals."
On the first day, finalists of Miss Universe Nepal 2020 Ms Angel Rai, filmmaker Sikuma Rai, writer and journalist Ankit Khadgi, academician, writer and activist Santosh Pariyar were among the panel with moderator Bhagwati Adhikari who is also a Sangat Nepal core group member. During the discussion, panelists Santosh Pariyar and Ankit Khadgi highlighted the need to dismantle the existing mindset and build new reforms to bring about a gender-sensitive movement in Nepal.
On the second day, panelist Sarita Giri who represents the gender and sexual minorities expressed her dissatisfaction with the slow pace of gender sensitivity. Sikuma Rai, Santosh Pariyar, Divya Devi Gurung, Sarita Giri and Biju Kanel from 'The Story Kitchen' were present in the panel.
The two-day event screened 14 films from a bank of 20 plus well-curated films with engaging stories, powerful characters, and bold, unconventional subjects from various South Asian countries including India, Nepal, and Pakistan. The next step is to strengthen a synergy amongst concerned authorities so that the people from gender minorities open up because of stigma and discrimination.
(Story details and photos courtesy of Nepali Brothers Facebook page)