Utrecht, January 25th 2021
The Global grass-roots MasterPeace (
www.masterpeace.org
) is collaborating together with CorrelAid Netherlands (
www.correlaid.nl
), a network of data scientists, on building a new search platform 'Forward43' geared towards making social innovations easily findable and connecting them with social development challenges.
Coined as ' Google of Innovations', the platform marks a unique collaboration between a grass-roots social movement and a socially-centered technology partner in designing a platform that enables change-makers to find a 'match' within a wide data-set of social innovations that could help address some of their challenges effectively.
"I deeply believe that many solutions to our unanswered challenges already exist. There is no lack of good innovations, but lack of an interdisciplinary coordinated framework to find the good match". Raghda El-Halawany, Founder of Forward43 (spin-off of MasterPeace) & MasterPeace's Creative Director said.
"Data science and AI can provide new ways of approaching problems, support decision-makers and boost innovators to find a market" Raghda added that she wishes this platform can be used further to deliver positive results in accordance with the priorities outlined in the
United Nations' 17 Sustainable Development Goals (SDGs) targets.
"Via all our local changemakers we understand the growing gap between "have and have not s". Having doesn't mean that the solution is not available, but now it's only available to the happy few. This new answer to long-lasting challenges will help to bridge the gaps. We grow through networks and this unique partnership provides an interesting chance for MasterPeace to bridge the world of social change and technology, providing value to our global teams." said Aart Bos, MasterPeace CEO.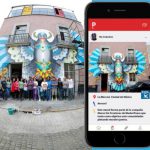 CorrelAid Netherlands partnered up with MasterPeace bringing their
data science volunteers to help MasterPeace, a grassroots peace-building organization to create a match-making mechanism for decision-makers to better define their problems and connect them to 'best-fit' innovations using semantic match-making and machine learning.
Andrew Sutjahjo, Founder and Chairman of CorrelAid Netherlands added that "Search systems stand or fall by the quality of the data, and the ease with which you can search. We continuously pull data from sources that we know contain social innovations, and stand on the shoulders of the giants of the open source community for our interfaces. Both in Tech and in Non-Profits, people are doing great work. We're just here to connect them."
Sutjahjo, who is personally passionate about social change, started his first project of setting up an orphanage in Kenya but later turned to his skills in technology to drive positive change starting the Dutch side of
CorrelAid (
http://correlaid.org
)

. He is implementing their 'Data Science for Good – organizing data4good projects involving their decentral network of over 1300 skilled volunteer data scientists. 
Forward43 realizes that one of main obstacles that faces MasterPeace social changemakers and other social movements carrying their work is "the ability to find relevant social innovations that match their challenges, and it can be literally, 'clicks away'
The platform will be available the first phase to MasterPeace clubs in 45 countries globally where some of the teams could test the functionalities through providing local case-studies, however, the aim is to invite other partner organizations within the social realm and beyond to collaborate 
---
—
About MasterPeace
MasterPeace is an award-winning grassroots peace movement currently active through MasterPeace Clubs in 45+ countries, involving thousands of young peace builders with hundreds of social change projects.
MasterPeace's vision is to inspire everyone to use their talent and energy for building peace and togetherness, believing in #7billionstrong. MasterPeace works through three core-activities to inspire & connect, create dialogue and build perspectives. 
MasterPeace realized more than 400 projects that mobilize its global communities to help the world achieve the United Nations Sustainable Development Goals (SDGs).
Stichting Correlaid Nederland 
Is a group of data science professionals and enthusiasts from all over the Netherlands, who have founded Stichting CorrelAid Nederland, an organization that has the goal of facilitating skilled data science volunteering between data scientists and organizations that advance the Social Good 
CorrelAid Nederland works through educating Social organizations in data science, scoping how data science can help those organizations, and implementing those scoped projects pro-bono.
— 
For more information about the projects & Collaborations
MasterPeace Media Relations
T: +31 6 27206407
E: raghda@masterpeace.org