An interview with Ilco van der Linde
Ilco van der Linde co-founded MasterPeace 10 years ago. In this interview, he reflects back on his own life as a changemaker, and how he has been part of societal transformation in more than 48 countries with young people at the lead.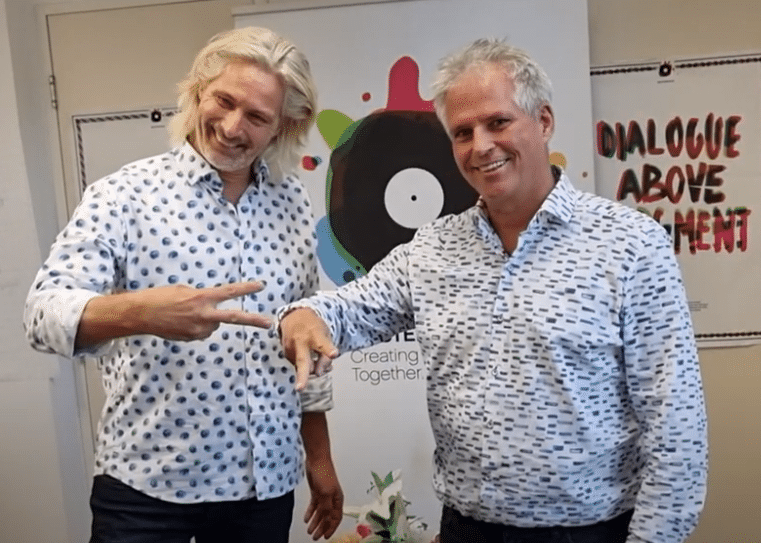 You got your inspiration when you were 15 years old. You had a little money, a hundred guilders, (about 45 euros today). How has your journey, from then until now, shaped who you are today?
My father was part of the Dutch resistance during WWII. He would later often visit schools to talk about what happened, and about the fragility of Human Rights. When I was 15 years old he asked me how we could involve young people in celebrating the liberation of the Netherlands and the end of WWII in Europe, to which I replied that I could maybe do something with music. He gave me a hundred guilders for that, with which I searched for a venue, and I started asking around for help. I asked if artists wanted to come and perform, if the school paper could print pamphlets, and if the milkman could bring the beer and sodas. A lot of people helped me eventually, and my first concert became a reality. So when I was fifteen I actually experienced that people are always willing to support you if you have a dream. They are often happy that they do not have to organize it themselves, so nine out of ten people are willing to support you one way or another. When you organize positive projects you end up surrounding yourself with positive people, and positive energy. So just have the guts to ask and people will help. After fifteen years of continuing and expanding these concerts, Bevrijdingspop (the concerts) turned out to be the largest Human-Rights focused project in Europe with a million visitors, which all started because a father trusted his son with a hundred guilders. This is why I often tell parents, companies and politicians to trust the younger generation, because with that trust you will see the wonders that they can create.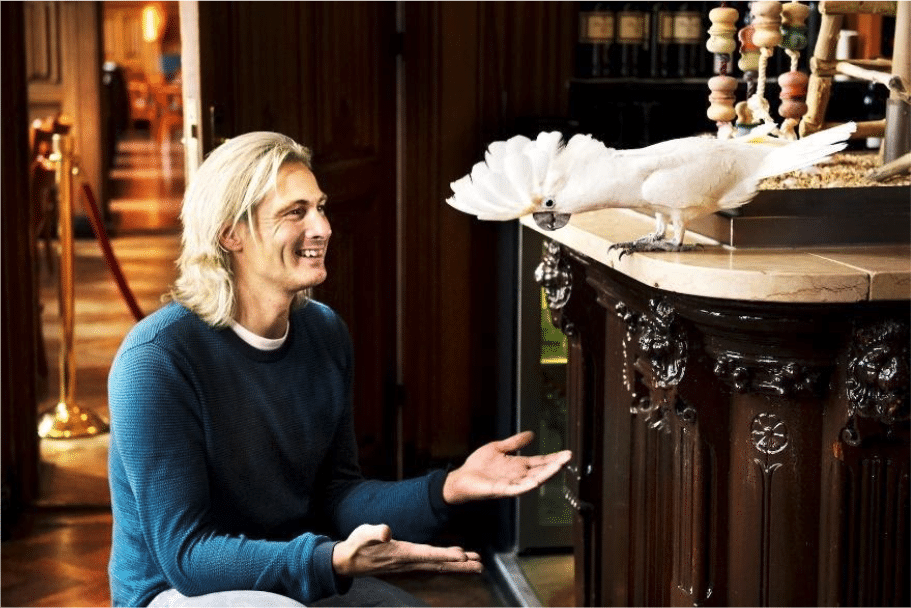 I learned that you can be very successful in setting up campaigns and projects for social causes when you just start asking for help and remain dedicated over the course of several years., That last part is important; you shouldn't expect it to happen within half a year. Always have a plan for five or six years at least, and focus on it. Just as the river Nile starts small in Ethiopia and Uganda, a project can start small too. Over time, after many miles, the Nile provides millions of people with food and transportation. It is the very basis of life for many people. And just like the Nile, a peace project can impact millions of lives with enough time and room to grow; it can become unstoppable. Sometimes there are setbacks of course, but with enough dedication and like minded people, you can achieve almost anything.
Has your vision changed since you started your first concert?
Not a bit. Maybe I am even more positive than I was back then. I'm still very dedicated to this mission of creating societies where it is safe and healthy for young people to build their future. We need open and positive societies. But a lot of people are afraid to embrace these kinds of societies, which pains me. Many people are scared of refugees for instance, but when those people could finally realize that refugees don't actually want to flee away from their homes, but that they simply have no other choice due climate change, conflicts and dictators, they could start to work and combat the real problems in the world. People are often fearful of change, because they cannot see the positive future and we need to guide them through this process of change, we need to show them that there is nothing to be afraid of. We need to show them all the beauty and optimism that change and diversity can bring. But this is not simple. Many people are scared of change and we need to understand that fear if we want to help them. Eventually there can only be one future, and that is a positive one, with freedom and safety for every living creature. And we need to involve everyone in creating it.
You have always struck me as someone with a positive and inspirational attitude and vibe. What keeps that positivity going?
For that I have to thank all the inspirational young MasterPeace leaders around the world because sometimes I can get sad from just watching the news, and the only thing that keeps me happy and optimistic is seeing all the young leaders in MasterPeace and other projects that keep standing up for important values, keep fighting for their rights, and keep building and creating and I truly believe that at the end, the positive, 'soft powers' like art, music and dialogue will finally win and overcome all the negativity that you see in the news each morning. We have to keep on believing this and we have to keep working towards this future and meeting all the people working for this future, that makes me humble and gives me a lot of positive energy. I cannot be negative knowing  all this.
What do you see as the most inspiring moment during your time at MasterPeace? One of the most beautiful moments was the international day of peace in 2014, when we had events all over the world on the same day. These events were really big, with musicians, and  opponents reaching out to each other on the same stage. People from different cultures, religions, opinions, all  on one stage, starting a dialogue, and creating something beautiful. That was truly mesmerizing. Additionally, I always really enjoyed the bootcamps with the club leaders. To see all those inspiring people together was amazing. We'd ask people to dress up with something that represents their own culture, and at the end we would just have an amazing party where everybody was dancing on the table and singing together. Those moments were awesome.
Looking back at the last ten years, how do you think MasterPeace has impacted the world?

 
Looking back, I know that we created thousands of new change-leaders. And together with them we've prevented many conflicts and supported lots of positive action. Some of our change-leaders have ended up in NGO's, Governments or Universities. Some of them are still active for MasterPeace, but all of them are at the forefront of positive change. There is not a really good system to measure this kind of societal impact, but we can see that it is there. The people we have nurtured  into changemakers, or Nelsons, or peacebuilders. That is already an amazing impact. Because they in turn are the role models for many other people. They are little fires of hope and change in places that are sometimes still very dark.
What lessons do you still keep with you that you learned from starting MasterPeace?
Most importantly, something small can grow into something really big if you have the dedication for several years. Can you just imagine how much MasterPeace can grow in the next ten years? We just need to continue believing. And personally I can also see that it is really rewarding to start these kinds of projects. After I started the Mandela house in Amsterdam, I figured that I would stop with creating projects but I just couldn't because not only the world needs it, but I also need it. It gives me so much energy and positivity to spend my time helping the world. I just keep seeing opportunities, and have to act on them.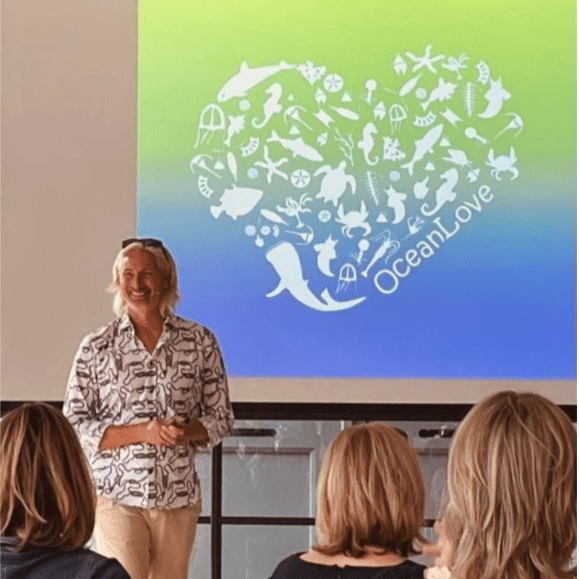 What insight would you give MasterPeace for the next ten years?
I think that we should not forget that MasterPeace is mainly a youth movement and young people want that change to come fast. They are a bit more rebellious in their approach, and MasterPeace should also be a bit more rebellious in its core. Everything is moving so slow nowadays. We should speed up, the world needs it! Of course it is important to set long term goals, collaborate with other organizations and have dialogues on inner peace. I do not say that we should not do that, but we also need to stand out of the crowd a little bit. We should be a forefront runner that mobilizes young people, that is a bit rebellious, that uses artists to start change. That is what the world needs right now and we have the power to do that. We have the story, we have the history, we have the people. All the ingredients are there to become even more impactful than we already are. To truly be at the forefront of change, we should not accept anything less than being the number one in this position.
What advice can you give to the new generations of young leaders?
One of the things I have learned over time is that if you demand change within one year, most people will say that you cannot, because there is not enough time. If you want change in three years, people will say that you cannot, because there is not enough money. However, if you say that you want change within five years, nobody can be against your plans because there is enough time, and there is always enough money somewhere. And if there isn't, you have the time to make that money yourself. Just have the guts to set these goals. Even in the most challenging situation you can spread a dream for the coming five years and most people, especially the young generation, will want to help you. Everybody wants a better future and when you have gathered enough like minded people you can go to the drawing board and set small goals that are achievable. You can create a roadmap towards your ultimate  goal. You just need to make people fall in love with your dream. And take them by the hand on the path towards that dream. That is what I would like to ask all club leaders: What is your dream for the next five years? Who can you mobilize for that dream? And if you think about the practicalities, most people will follow!
Do you have any final remarks?
Never forget that we are the vast majority in each society all over the world. In each society most people would say yes to a safe, healthy and green future for the next generations and sometimes people are too scared to say this out loud, due to their political leaders, or other dangers. But always keep in mind that we are in fact with the majority. We need to enable those others who are not at liberty to speak up, to let their voices be heard. We need to connect all these equal-minded people all over the world. We need to let everybody know that even in dire  circumstances, and the most bleak of societies, that nobody is truly alone. We are the majority, and one day we will be victorious. And it is up to MasterPeace to find the best way to mobilize and encourage these people. And we can see this positive change already! Our world is slowly getting greener, our production is getting more sustainable, we have the first black female Vice-President in the US, the first tribal woman in US-government and more women in boardrooms. I could go on for ages about all the positive changes happening in the world right now. So my message would be: Stay positive and never give up! Be a Nelson!
MasterPeace co-founder Ilco van der Linde is also (co)-founder of dance4life (against HIV/Aids) in 30 countries, the Liberty Concerts (in The Netherlands) and the Mandela House in Amsterdam. Here he supports many NGOs and social entrepreneurs on a daily basis. Recently Ilco started the new future movement OceanLove. With the slogan "Because you protect what you love" and the involvement of photographers, poets, scientists and activists OceanLove will inspire people to protect the oceans, against pollution, climate change, industrial fishing and other threats. The website oceanlove.news will be launched very soon, but you can already start following, sharing and liking the social media posts on OceanLoveNews (Facebook, LinkedIn, Insta).