MasterPeace Walk Nepal 2022
Join the MasterPeace Walk 2022
ENGAGE
 with self, other and culture
EMPOWER
 young Nepali, projects and communities
ACTIVATE
 care for nature and show-up as your true self
We are delighted to invite you to the MasterPeace Nepal Walk 2022.


Join us in discovering genuine Nepal. Going beyond the mnt Everest and the regular tourist areas, we will introduce you to the
real Nepal,
real people, real culture and real nature.

Join us in an unique 10-days experience in the gorgeous Dhading area in Nepal. 
The Dhading area is rich in beautiful nature and well preserved from mass tourism…
Santosh Bidari and his team of MasterPeace Nepal will host this event.
Enjoy the company of unique warmhearted people;
Have interesting discussions about life, work and culture differences. 
Learn about the Nepalese traditions, culture and rituals; 
Discover the work of the local MasterPeace team; Disconnect from the hectic of the western civilization; Reconnect with the nature and yourself; 
Experience via silence, storytelling, meditation, sharing and reflection; 
Walk 6 days , roughly a total of 80 km in an area of low altitude; 
Enjoy a healthy environment and traditional fresh food; 
Add value to the local community;
Go home with memories for life!
You will discover and experience the culture and rituals of Nepal, and as for 6 days you will walk, live and sleep in nature together.
You will enjoy the company of a group of about 20 locals and 20 westerners.


This trip is a unique adventure in which you will connect, discover and learn from nature, culture and your own personal leadership.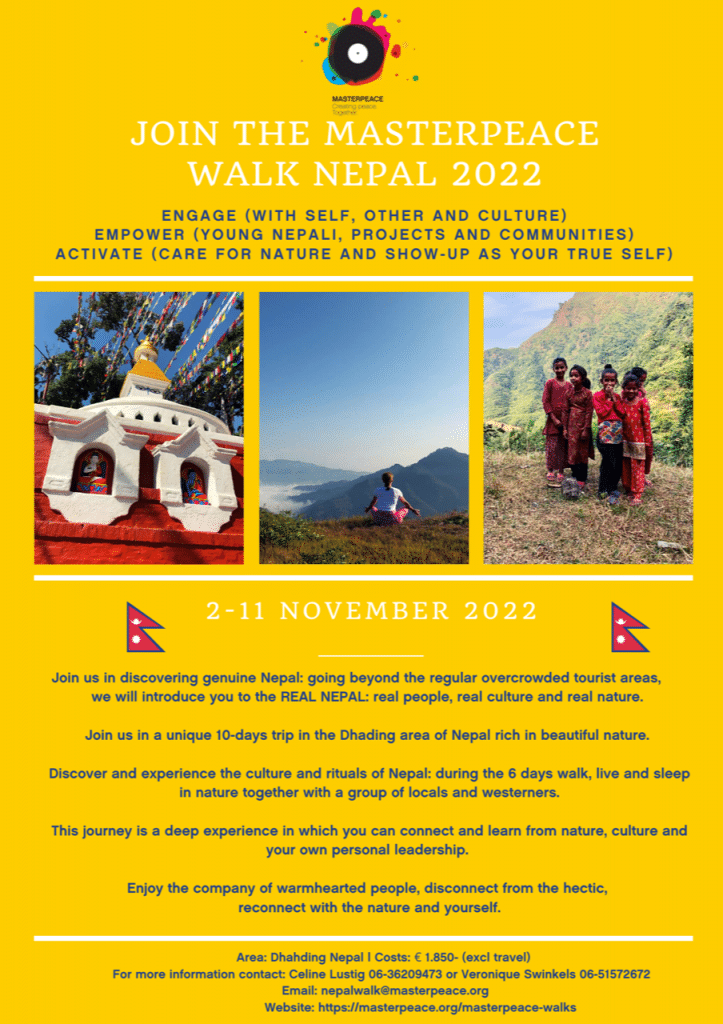 Date: 2-11 november 2022
Area: Nepal, Dhading area
Costs: €1850,- (excl travel)


The MasterPeace Walk Nepal 2022 is organized and guided by Masterpeace Nepal leader Santosh Bidari and his team and two experienced MasterPeace walkers  
Céline Lustig
is a French citizen living in the NL for the last 20 years. She is a Corporate Happiness Coach and yoga trainer. She walked as a participant in the MasterPeace Walk in Nepal in 2019 . 
Veronique Swinkels trains and coaches young professionals to become
positive changemakers. She walked as a participant in the MasterPeace
Walk in Nepal in 2019.

Santosh Bidari is the leader of MasterPeace Nepal: " For the past 13 years, I've been driven by passion to bring people together regardless of cast, faith or cultural background. " Music, art, media, education,meditation and yoga always play a central role in my campaigns"
Punam Khadgi is the director of Peace for People and Social Media Officer for Regional Hub Asia: " Since 2012 I've been working at MasterPeace to help all children to have an accessible an free quality education"

Information related to the Coronavirus:
Of course, like everyone else, are we unsure of how the Coronavirus will develop in the coming months. We advise participants to wait with booking their flights. The trip can still be canceled because of Corona even when there are enough participants.
We will continue to monitor the situation and keep you informed of relevant developments of the walks.
Contact details for more information:
Celine Lustig 06-36209473 
Veronique Swinkels 06-51572672