MasterPeace team of Bogota, a team of a skillful dancers but more of healers! We were inspired and slightly puzzled on how dance can bring 'healing' on a personal level but as well on a community level.
Starting with spontaneous efforts by our teams following the earthquake in 2017 that rattled the capital, MasterPeace Bogota started a pop-up dance group on the heels of the earthquake with the victims next to their own homes, offices, and their belongings that turned into ruins.
In an emotional but effective technique, communities started gathering to say goodbyes to their favorite items but more as a start of a new chapter of moving on, where our teams started registering the feedback, stories, and movements into their developed technique.
With that result, our team of dancers worked on making this into a framework, named 'a Highly Vulnerable Art – Dance4Healing',  as part of the project ACTúa in Colombia which consists of different artistic intervention targeted mainly at youngsters to support the peace process in Colombia.
a dance therapy methodology works on using music and dance circles for post-conflict and post-trauma target groups to regain self-confidence, healing, and integration.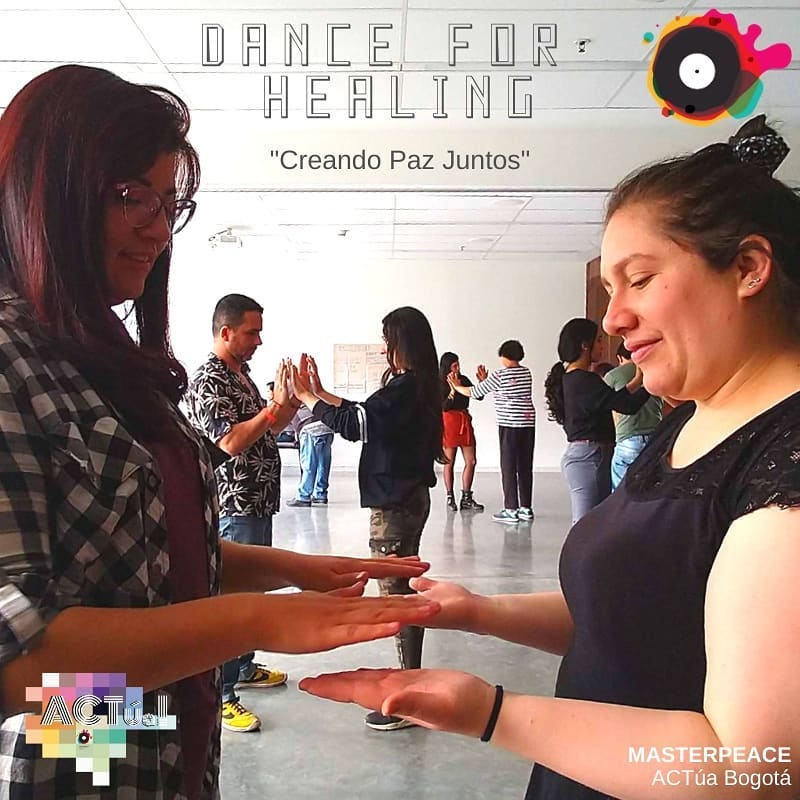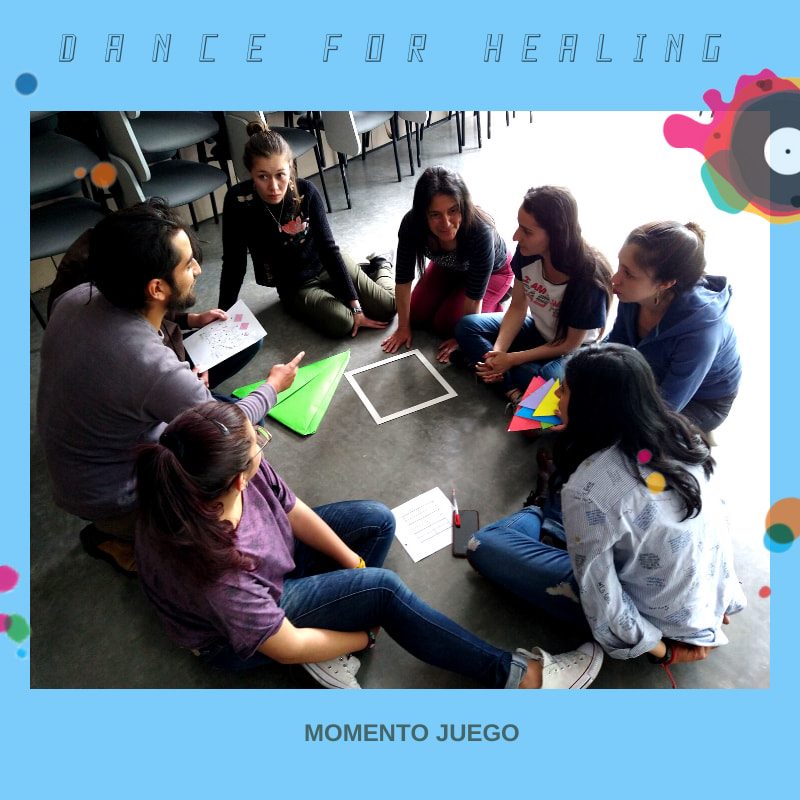 In this first stage of the project which has been mainly of research and interdisciplinary meetings to create a new approach in dance and psychology for peace-buildings processes with social organizations , the team has learnt:
To start with

 

–Research and studying meetings, as each of the team members, partners and role models shared their areas of expertise seeking to align technical and general knowledge, directing them according to the project. Each one gave an overview of their field (psychology and dance) and defines a specific work area.
Followed by -creating trainings and workshops were carried out with the 30 social leaders.The parameters that have been decided to work from psychology are related to social psychology, positive psychology, and then phenomenology to give a sense of people´s

 

experiences.
With the next step of working with – skilled groups of instructors, dancers and coaches engaged in leading training in these sessions the team carries out the methodology and tests each of the exercises, games, dynamics and experiences that they produce. After each activity there is a space for discussion about the relevance of each exercise.
As the last step. –Meetings to collaborate with allied organizations to create open opportunities and trust. working with alliances such as ASFADES, CODEPSI, Peace and Reconciliation Memory Center, Emerging Victory (MEX).
After some meetings with victims organizations we understood that common psychological´s approaches of the governmental organizations usually re-victimize the population. Because of this, we were able to modified and redefine different aspects of our methodology.
The team used Laban theoretical tools, Laban/Bartenieff movement analysis, is a method and language for describing, visualizing, interpreting and documenting human movement, for teach a body language, and also used Authentic Movement to let the people feel free to move, recognize and

 

recreate their own movement paths.
Each session the participants could propose their own inner investigations about themselves and their bodies and movements, then is possible to everyone to discover new information and get insights in order to achieve more and more self-knowledge.
Since the signed peace agreement of November 2016, community is finding a way to heal and move on and empower cvil society organizations to carry out this process of moving to the next steps on community, national and regional level. With our Dance for Healing in Bogota, the main goal is to strengthen some of these organisations, the project will reach thirty social leaders. They will use the skills and tools developed through the workshops to facilitate and work with twenty-six individuals, for a total of eight-hundred people reached.
This target group of eight hundred people will be as diverse as possible, since the main objective of this project is that the method developed with the leaders, will give them tools to work with any individual, no matter what age, race and background.
The next level is to use the knowledge of this methodology to the other three cities (Medellin, Barranquilla and Cali) as we will implement learnings and methodologies, all in parallel. For this phase the project will grow into sustainability by standardizing processes and empowering other Civil Society Organizations (CSOs), while focusing on engaging the community (focus on
youth) in the peace-process.
The four teams will establish the social and artistic lab called ¡ACTúa! Lab is a hub of all developed techniques, learnings, and methodologies. Community engagement and especially youth will continue to be the focal point of the project.