On February 24, 2023 thousands of Ukrainians currently living in the Netherlands will gather at the Koninklijke Jaarbeurs (Utrecht, Netherlands) for the memorial event of the war in their home country. A year ago on this day, Russian troops invaded Ukraine.
Ukrainians, as well as Dutch and other locals of different nationalities supporting Ukraine, will follow the Walk of Hope – a walking route from Utrecht Central Station to the Ukrainian crisis center in Jaarbeurs, a route taken by thousands of Ukrainian refugees who arrived in the Netherlands last year.
A further agenda of the memorial day includes many events. Under the motto "Let's remember together" meetings, commemoration, conversations about the past, the now and the future will be taking place. The connection is a central topic. Not only among the refugees from Ukraine, but also among the countless Dutch people who supported them with their warm hearts over the past year. This includes members of host families, volunteers, humanitarian workers, and employees of various aid agencies and governments. The memorial event is also facilitated by Utrecht Regional Safety Services, the Ministry of Justice and Security and the Municipality of Utrecht.
A huge map of Ukraine with 25 areas representing all Ukrainian regions and cities will be placed in the meeting hall. A symbolic walk 'through Ukraine" includes music programs, exhibitions and video-content based on stories and representing the talents of Ukrainians coming from different regions of Ukraine. Each region will have its own memorial complex where refugees from this area can meet and children will be able to make a drawing, which will be sent to the corresponding place in Ukraine.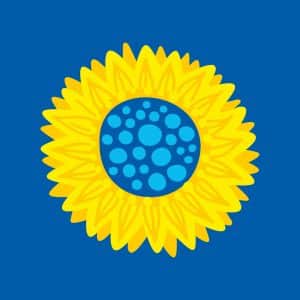 The symbol of the event is a sunflower with 25 seeds in the middle. The sunflower is the national flower of Ukraine and represents resilience and the return home. At the core, you see 25 blue dots that represent all regions and therefore Ukraine as an indivisible country. Then you see 24 yellow dots and two rings. There are 20 points in the first ring, 22 in the second. All together this makes 24-02-2022.
This nationwide memorial assembly is an initiative of the Vitalnya Foundation – a cultural and community center for Ukrainian refugees in Utrecht ("vital'nya" is literally a "living room" in Ukrainian language). Since the 1st of April 2022 this is a place for daily activities for Ukrainians such as language lessons, mental health meetings, festivities, counseling hours and child care.
MasterPeace is proud to partner with Vitalnya on events where we can together contribute to a more peaceful future. MasterPeace mission is in mobilizing, inspiring and connecting talents for a sustainable future with less conflict. We use the soft power of art, music, play and sport to help the transformation in the world.
The Ukrainian community in Utrecht contributed greatly with their talents to the Sky Concerts organized by MasterPeace on the International Day of Peace on the 21 of September 2022. On that day we – together with over 200 stages all around the world – gathered to express our deepest wish for peace in Ukraine and everywhere in the world where people suffer from armed conflicts. We listened to some great Ukrainian talents singing and playing musical instruments, watched young children dancing in national costumes, we heard amazing and breathtaking stories and prayed and hoped for peace soon.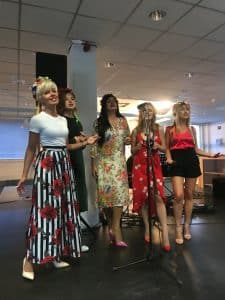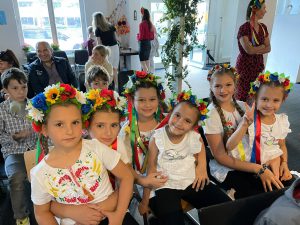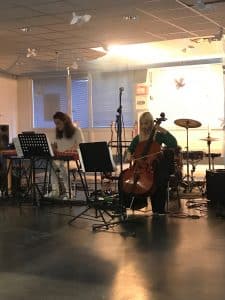 The youngsters from Utrecht Ukrainian community joined special events organized by MasterPeace in frames of Utrecht-900 to influence the creation of the city for everyone – the city with no walls and full of talents. There were multiple opportunities to show their talent in creating graffiti, practicing writing a rap song addressing social issues and simply getting together, having good meaningful time and finding friends among Dutch youngsters.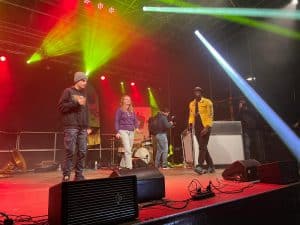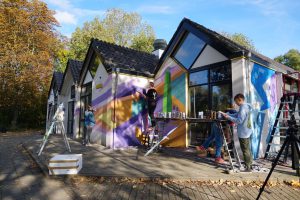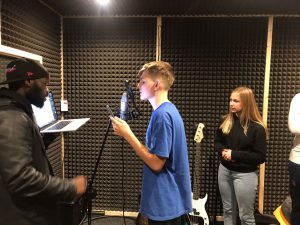 In contribution to the memorial day on the 24th of February MasterPeace will mobilize its network and MasterPeace clubs in Ukraine that are working day and night helping the society to stand together and resist Russian aggression.
In the Netherlands, a great young artist Yarima Lugo, the member of the MasterPeace Core Team, will create a musical composition for the Remember Together event to accompany the heartbeat symbolical action showing solidarity with the people in Ukraine and other Ukrainians everywhere in the world where the war brought them.
"Thinking about this moment together gives us hope and courage during this difficult time" says Anna Bieliaeva. Anna is from Kharkiv, Ukraine. On March 11, 2022 her mother, her 4 year old son and she arrived at Utrecht Central. She became a volunteer at the Ukrainian Crisis Center and later a location manager at Vitalnya Foundation. You can read Anna's story in the Netherlands. Anna is an inspirator and the engine behind the Remember Together memorial event.
Many MasterPeace clubs are operating in the countries where political unrest or armed conflicts are a part of sad reality. They share this burden with Ukrainian people in their hearts. They also are willing to help Ukrainians to keep their spirits up by sharing their learnings on how to resist and stay strong, how to have dialogue about tragic events and how to build the future without aggression.
On the 24th of February we will look back and Remember Together. But we will also look forward. We will imagine the future where we all live in peace. Together.
Read more about the event "Remember Together" and support Vitalnya to hold an event with bigger impact by donating, sharing, and reposting information on www.24lyutoho.nl