MasterPeace and Stichting Move (with support from VSB foundation) developed the concept "Create your World, Move your talent". With this concept we inspire youngsters (age group between 14 – 21) to develop their skills and talents in a creative and playful way. Once they feel confident using their talents, the youngsters are called to take action improving the community, tackling challenges their communities face. 
We cover the 3 stages: "me", "me & you", "us".

See for more explanation (in Dutch): https://www.youtube.com/watch?v=ZPtdVKn0bVQ  
We implemented the concept at the Spaarne college in Haarlem, from the 26th – 28th of January 2022. The teachers of the school were very interested to learn about the concept (in a train-the-trainer session) and they did all their best to guide the students through the days.  200 students from the 2nd year VMBO participated. With at the end of the day: many happy faces, from students and teachers!
So, actually, to turn a smile on someone's face is exactly what we try to teach the students with Create Your World. Society tends to be more individualistic, especially due to corona-lockdowns. So students might feel overwhelmed by the challenges they face and might not see directly how they can make a change, make an impact.
With Create your World we make them see how a small act of kindness, already can make a big difference.
First day, who thinks he can stand on his head?
On the first day the students developed their creative, artistic talents. Maybe even discovered "hidden" ones, like song-writing, or doing crazy moves!
We offered 12 workshops, with various disciplines: theatre & performance arts, drawing & street art, vlog & photography, rap, breakdance, hiphop, singer songwriting & music.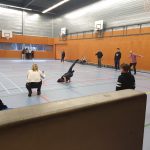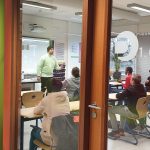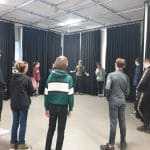 Workshop breakdance
Workshop rap
Workshop performance arts

Second day, let's team up
The second day the students developed their knowledge about talents one step further, doing a quizz showing them their preference in behavior. Are you an explorer, or an organizing person? Do you take into account details, or are you rather a storyteller?
With grown confidence, the students teamed up. Respecting each other's talents (and therefore differences), they discovered how much stronger you are working together. We asked them to list some challenges they, their teachers, and their community might face. And even more important: what you can do about it.
We got the most inspiring ideas to make a positive impact. 
Handing out cards, just to ask the simple question: how are you today?

Create a tik-tok video on the topic of respect

Making your own post-cards and give them to someone else for 1-on-1 contact

Giving away fruit to people on the streets

Recognizing the hard work teachers do by offering an award.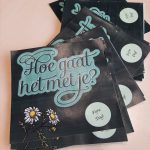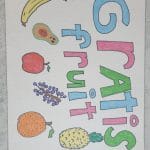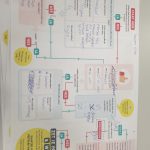 Third day: and action! put a smile on your face

On the third it was time for action. The ideas were carried out, preparations needed to be done. 

Students went out on the streets to help other people with their chores, or to make them smile: distributing cards, flowers and fruit on the street. 

Another group made beautiful photos to give away to the elderly, baked cookies and handed them to teachers, made tickets for the elderly in the retirement home, set up an action to help animals in need and there was a competition for both the funniest and the best teacher.