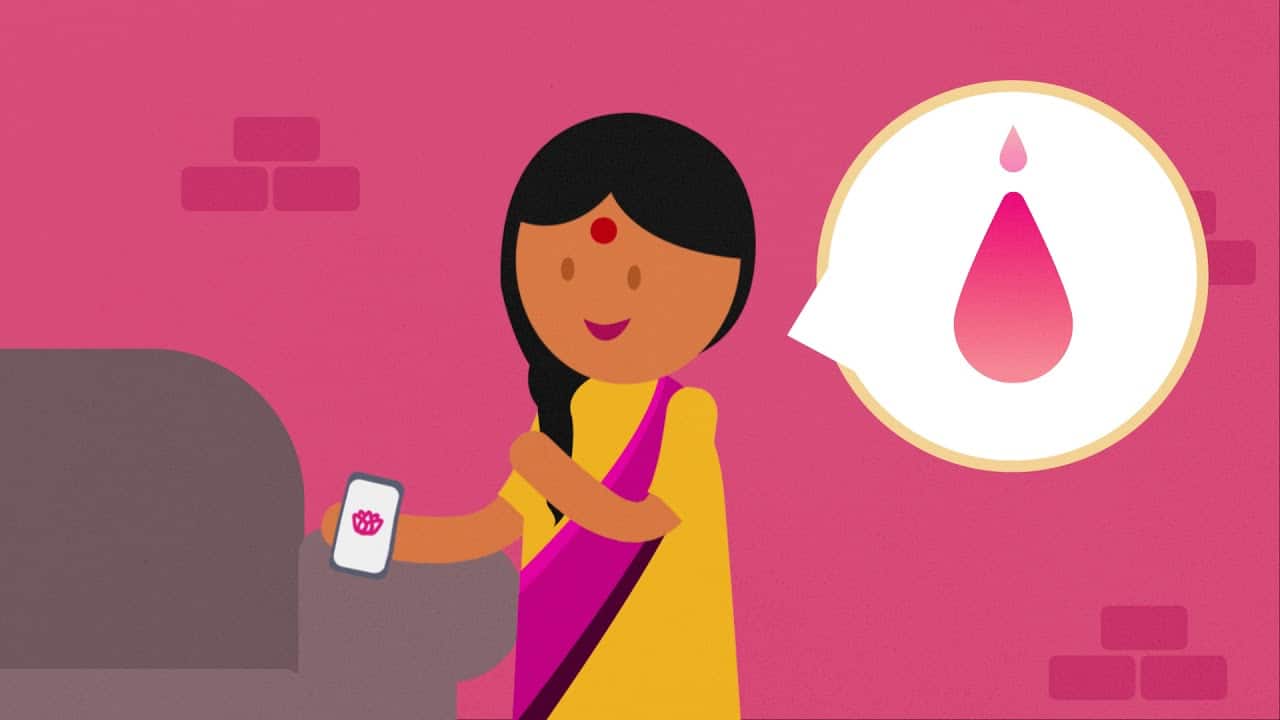 India: Meri Body - my body, my choice!
https://www.youtube.com/watch?v=vXh96eZFyEY
At MasterPeace, we believe that every person in the world has a talent, and that everyone should be given an opportunity to develop and use their talents for a more sustainable future. Unfortunately, there are still many girls and women around the world who are held back from fulfilling their potential because of one simple thing - periods. This is why MasterPeace teamed up with Meri Body and started to co-create menstrual health awareness programmes in South Asia. Every woman deserves her dignity and freedom! Period.
In India, having a period is still surrounded by stigma and shame. Women who are menstruating end up excluded from social events and religious celebrations. The shaming takes place at family and community level as well as in schools. Just earlier this year, about 70 female students in Gujarat had to prove to their school principal that they were not on their period - in the 21st century! If a topic is a taboo that nobody dares to talk about, it means that important, health-related information does not get spread either. A report by Dasra showed that 71% of adolescent girls in India are unaware of menstruation before they get it themselves.
How can we confront the stigma and spread more knowledge? How can we make sure that girls are walking around with confidence all the time - and doing what they want, when they want it? How can we ensure that everyone has equal opportunities to create their own future
MasterPeace is working together with Meri Body to offer a solution.
Our solution: technology
Young girls and boys often have a smartphone in their hands and spend endless hours on social media. Clearly, online campaigns can provide an invaluable opportunity for spreading awareness about periods and menstrual health. But that's not where it stops. Meri Body has launched a mobile app which includes a period tracker combined with science-based information: this allows the user to understand what is happening to their body over the course of the whole cycle. The knowledge is conveyed in short video clips which are translated to local languages. We're lowering the information barrier.
The app is downloadable for free on Google Play store: find it here.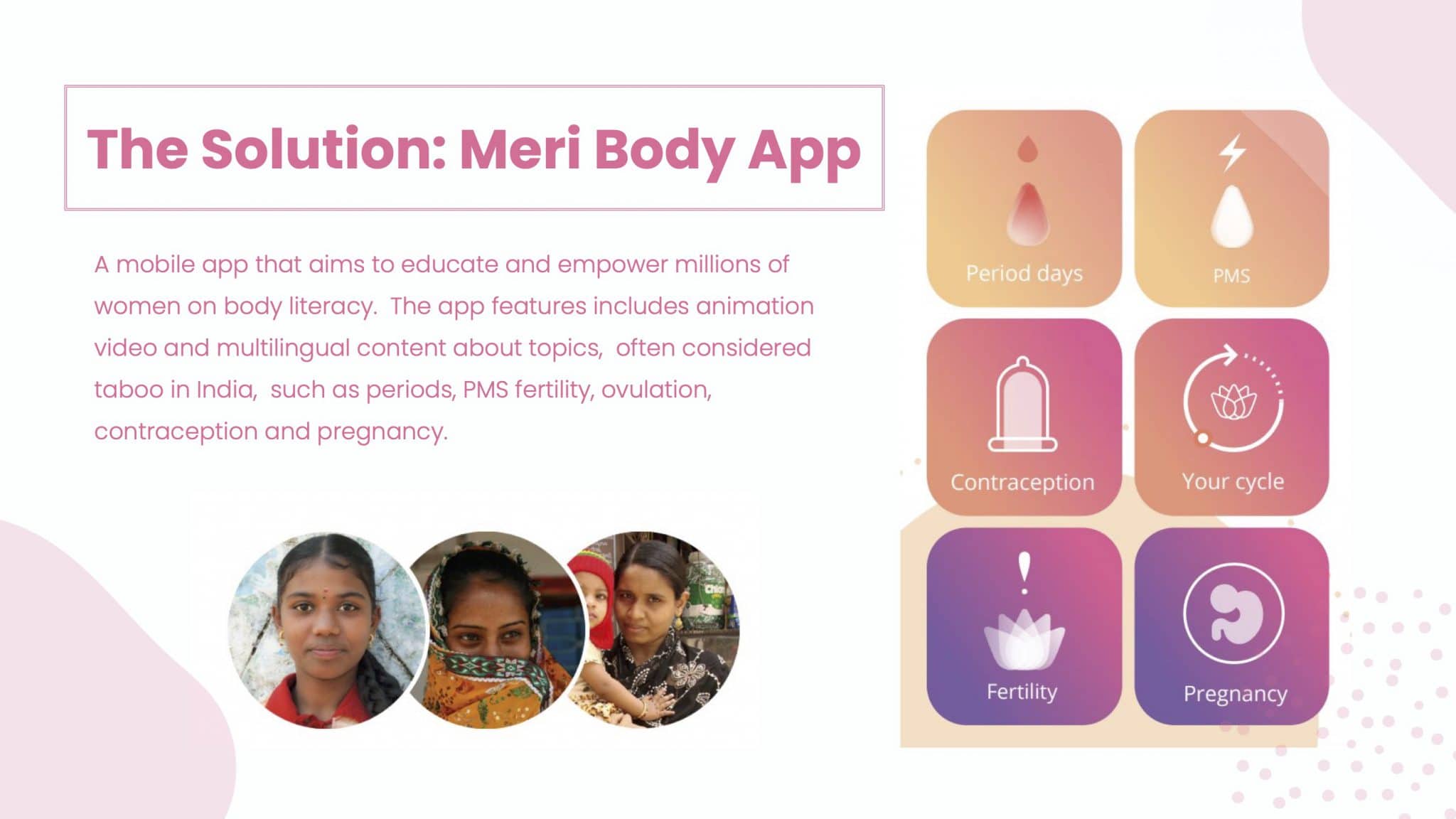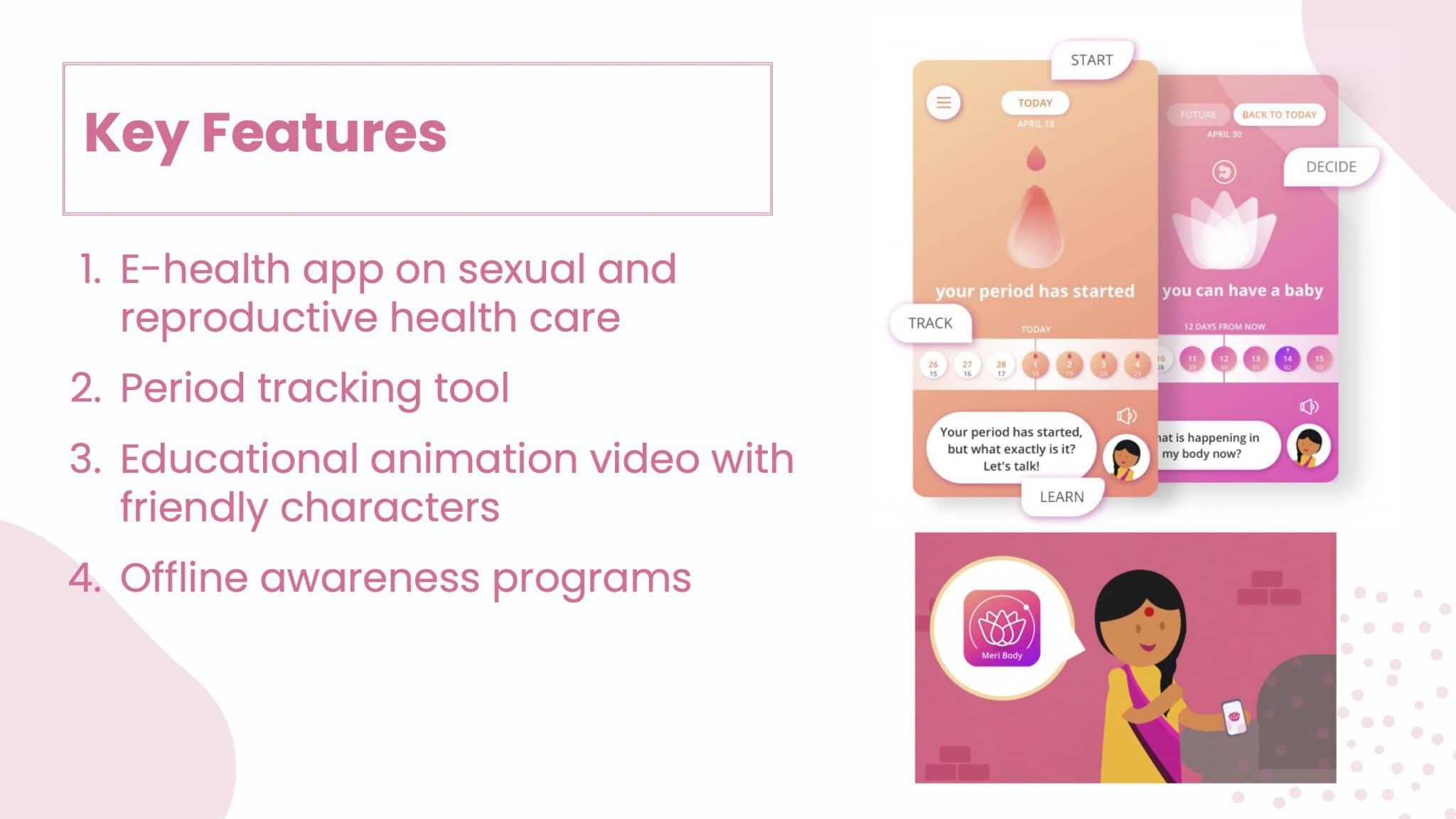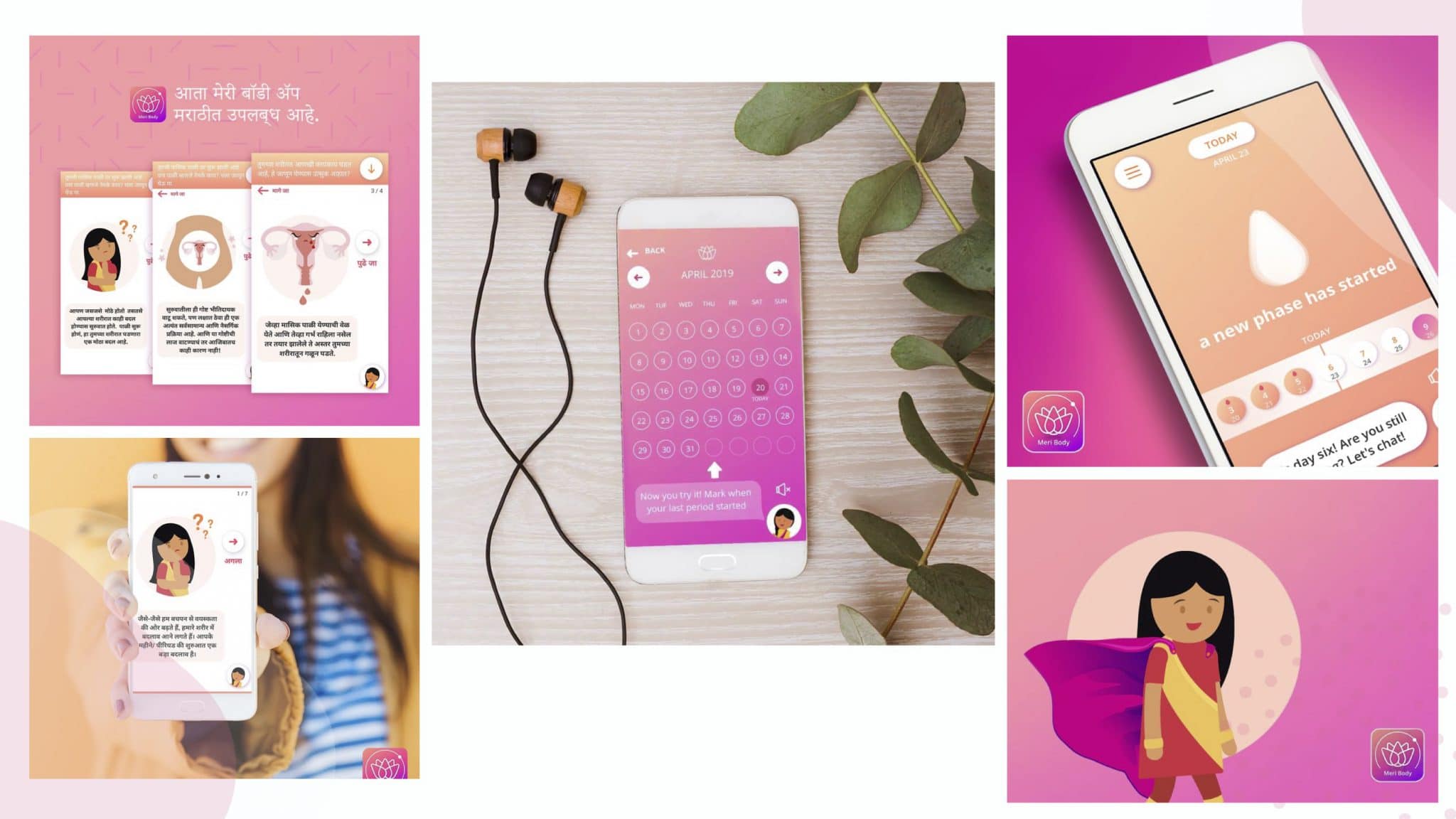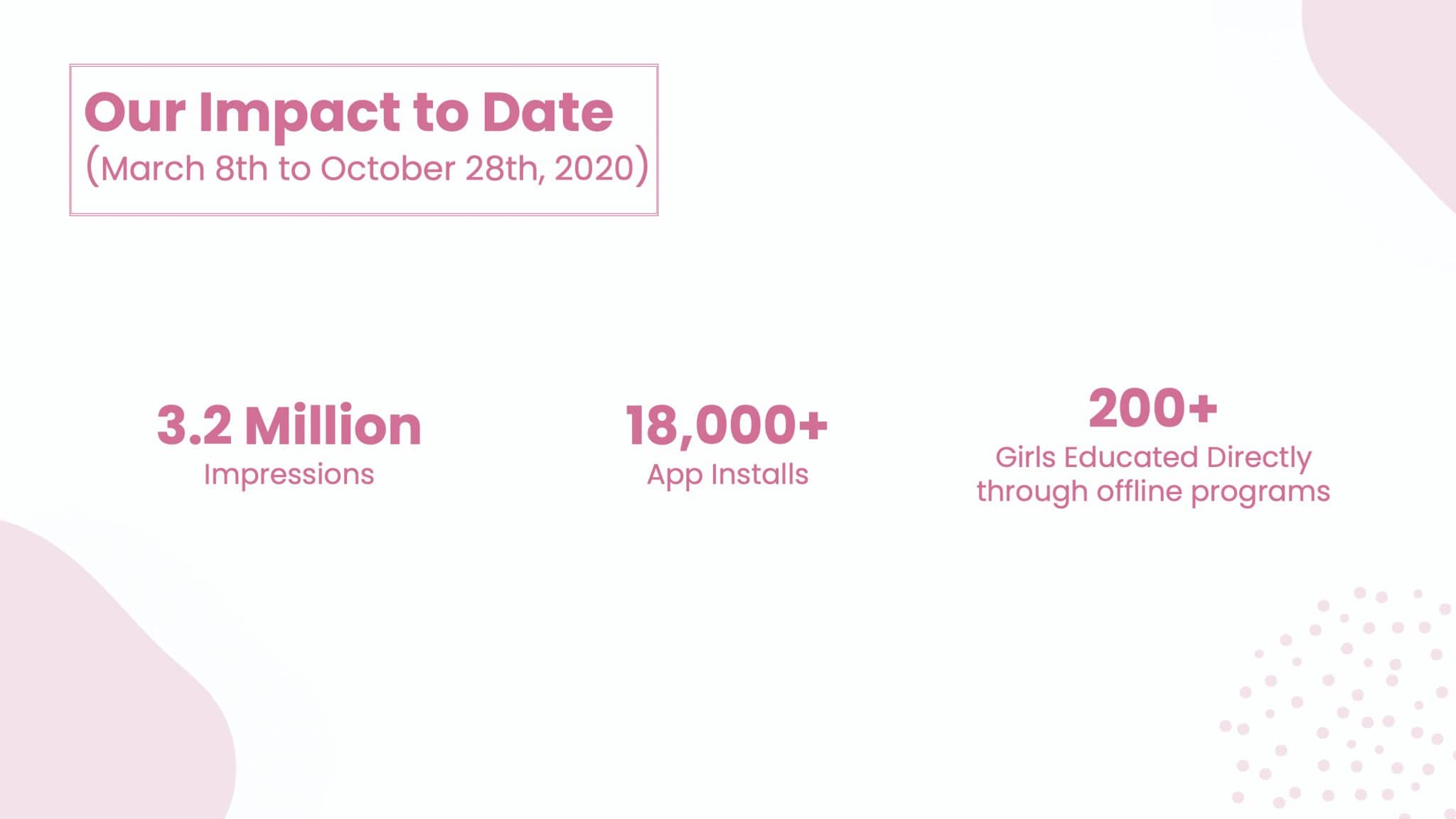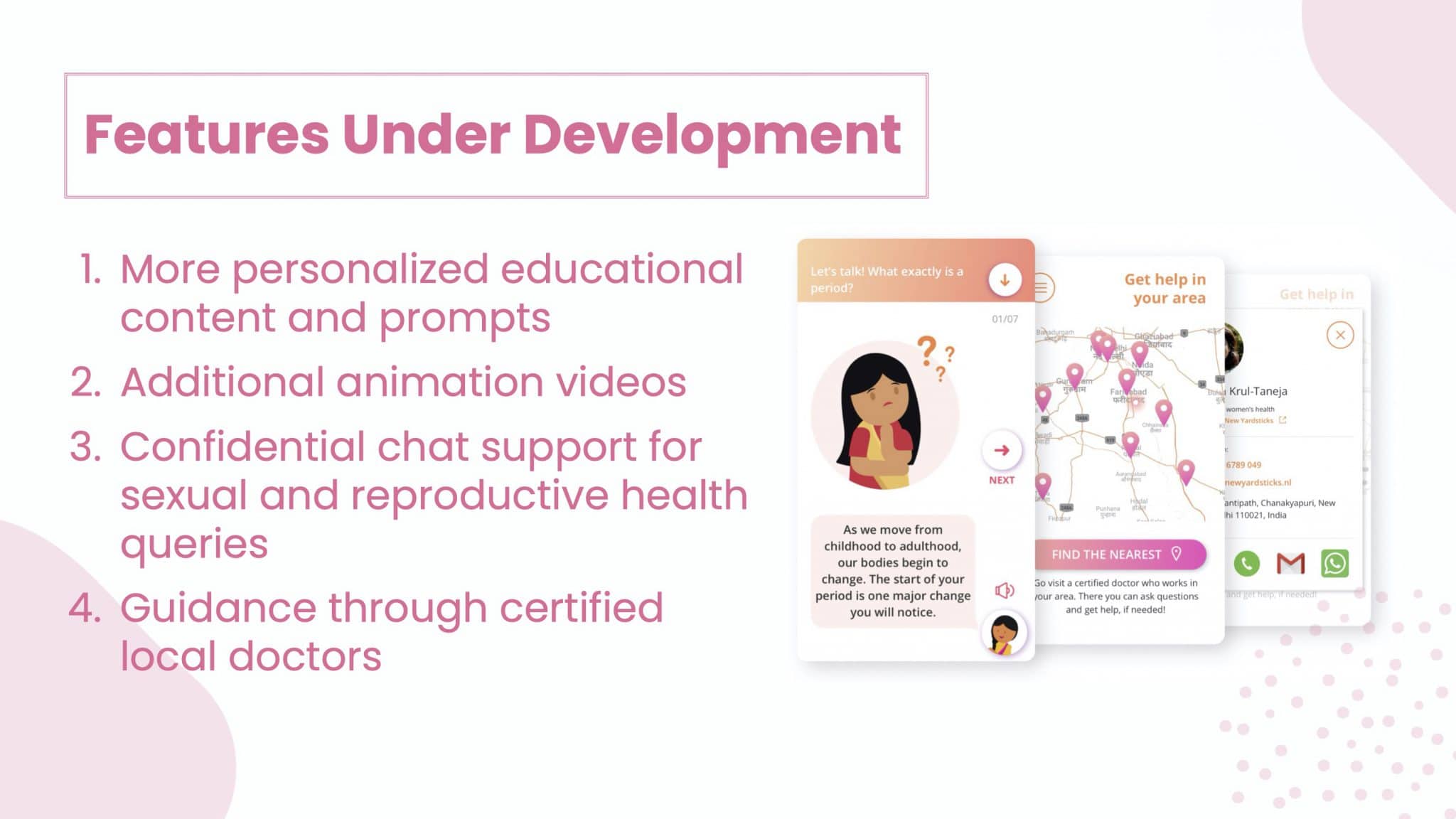 Previous
Next
From online to offline: creating safe spaces
We believe that education is the most important vehicle for reaching out to the youth, and that teachers need to be engaged and empowered so that they can meaningfully facilitate the transformation process. Therefore, we've kick-started a collaborative pilot project Blossom School in Bhubaneswar, India, under the mentoring and guidance of Jeevan Reekha Parishad and the Club of MasterPeace India-Odisha.
Every week, for 5 weeks in a row, we have been meeting with a group of Class 7-10 students who come together and share - in a safe space - their period stories. The first sessions were just for breaking ice and to get to know each other. It starts with talking about it - Bolenge nahin toh sunenge kaise. From there, we've discussed the pros and cons of different menstrual products, shared tips for reducing discomforts (e.g. pre-menstrual syndrom) and suggested how to approach our mothers, sisters and other family members with the topic. Namita Krul, the CEO of Meri Body, has been facilitating these sessions personally, in order to hear the needs and experiences of the girls first-hand. 
We've started to break the taboo, one conversation at a time.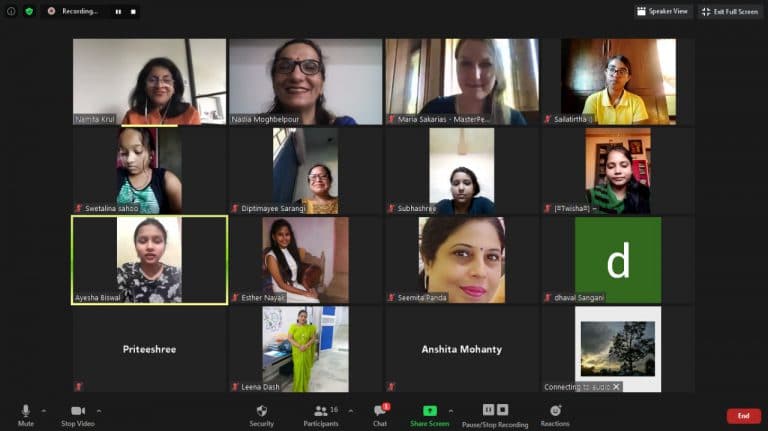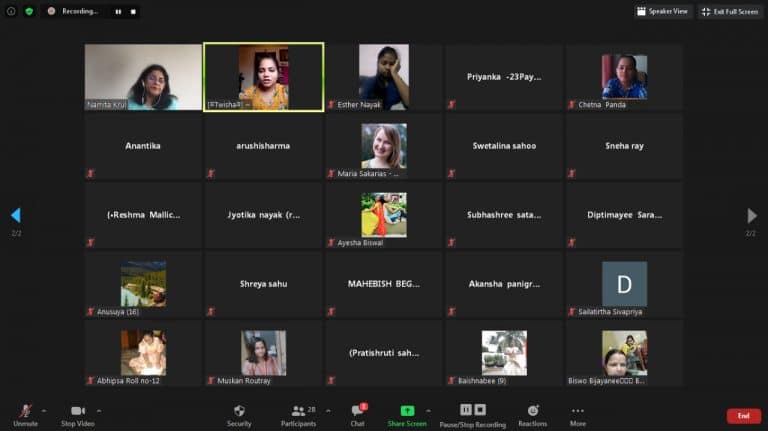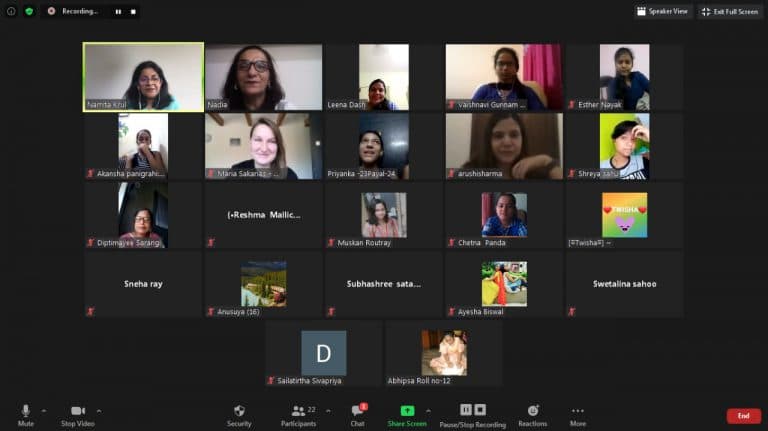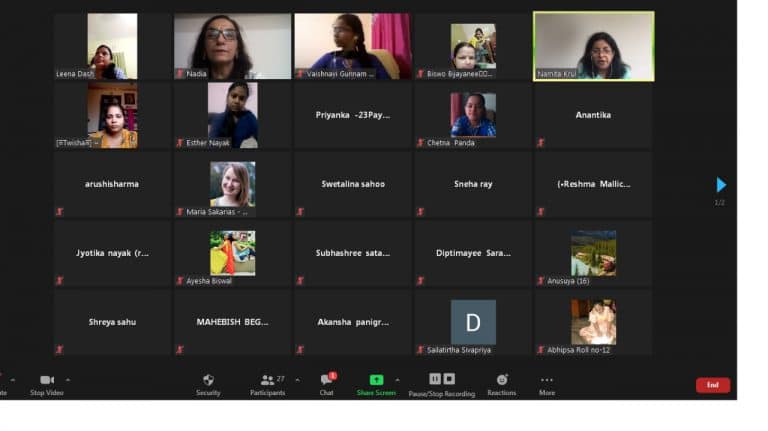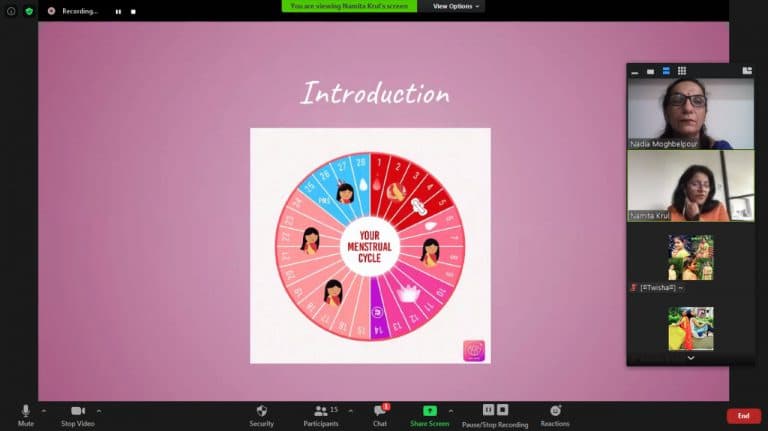 Previous
Next
What's next?
During the sessions, we found out that there are so many misconceptions and questions still unanswered. If we don't dare to speak about the topic, how can reach out if we're in trouble and facing an actual health issue? Our facilitators' team heard how some girls are not allowed to touch plants, touch food, open the fridge, visit the temple or even take a bath during the period days. Ridiculous! The mentality of the whole family needs to be changed. This gave us ideas for moving forward.
1. Our aim is that these girls will become empowered and emboldened change agents who will mobilize their sisters, mothers and aunts to attend the sessions. This will create an opportunity for safe and comfortable spaces at home.
2. From there (and if Covid19 allows), the girls will be given the task to go out and share their new knowledge with hard-to-reach and vulnerable communities - urban slums and rural villages - where stigmas and misinformation are even more wide-spread. The trained teachers will be able to guide them in the process.
3. In the spirit of MasterPeace, we have asked the participants to submit essays, poems, drawings or any other creative expressions about their personal experiences with periods. Opening up and sharing has an empowering effect on the creator, and it inspires others to open up as well. We are publishing some of them here (with permission).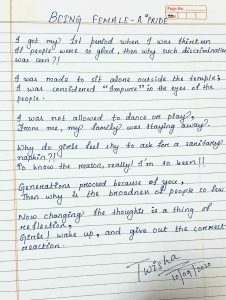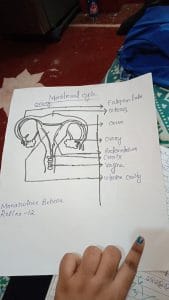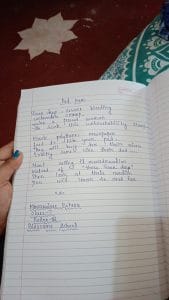 Previous
Next
We are extremely grateful for the support from the Director of Blossoms School, Nadia Moghbelpour, for guiding us on this journey. Stay tuned for our next steps, together.
Meri Body - my body, my choice!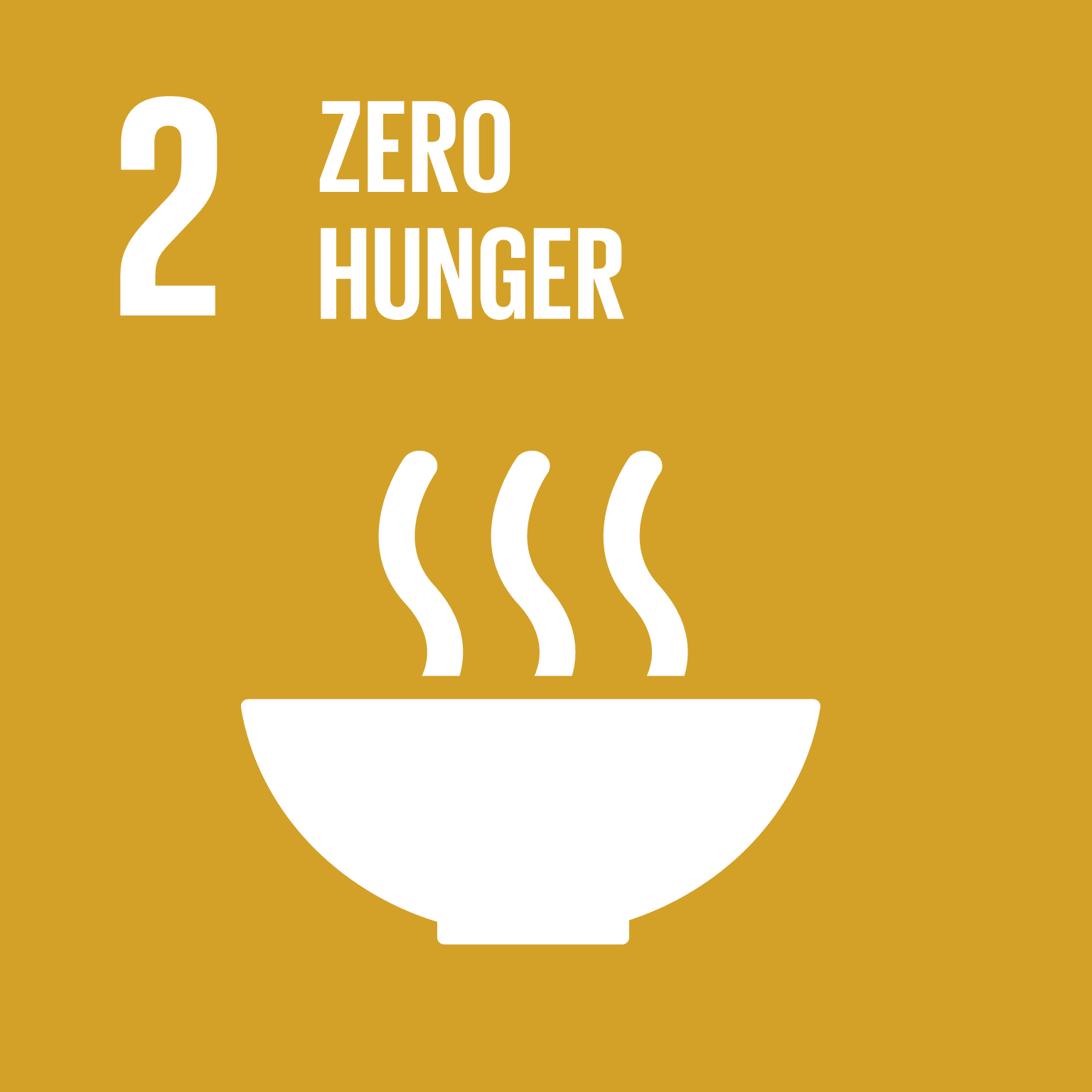 Y4SD - Session 1: Sustainable food production and food security from the gender lens
https://www.youtube.com/watch?v=lbj0al1Y9Aw&feature=youtu.be
This blog article was originally published here on 22 October 2020.
Hunger is a major problem in today's world. According to the World Food Programme, there are now 135 million people around the world suffering from acute hunger due to man-made conflicts, climate change and economic downturns. COVID-19 pandemic can double this number by putting an additional 30 million people at risk of suffering from acute hunger by the end of 2020. India is one of the largest food producers, however, ironically the country is also home to the largest number of hunger ridden people and one-third of the world's malnourished children. The Global Hunger Index ranks India 102nd amongst 117 countries.
The situation is very similar in West-African Country, Cameroon. It is a country with a lot of conflicts and an unstable political environment. It is also facing diverse hunger and poverty issues. The Northern and Eastern regions, in particular, are disproportionately impacted due to floods, droughts, land degradation and poor agricultural practices and harvest losses. These are all factors that contribute to food insecurity and hunger in the country. Presently, there are 2.6 million people in the country facing food insecurity. COVID-19 has exaggerated the situation.
These issues are huge but we also see how many people are coming together and are solving the challenges especially during COVID-19. Young people have an important role to play at the local level. Even if the Global challenges seem daunting, change starts at home and within ourselves. It is our responsibility and our opportunity to act and make a difference.
With a focus on the SDG-2 and to commemorate the World Food Day on 16th October 2020, Connecting Dreams Foundation in collaboration with MasterPeace organized the first session of a new platform called Youth for Sustainability Dialogues. The program was also to acknowledge the recent Nobel Peace Prize which was given to the World Food Program of the United Nations Agency. A total of two teams from two different countries presented their projects, one from India and the other from Cameroon. Meet our teams and get a glimpse of the wonderful work being undertaken by them!
Project Unnati, Connecting Dreams Foundation Kalindi, India
Project Unnati was presented by Khushi Trivedi and Shailja Singh. Connecting Dreams Foundation (CDF) Kalindi launched its flagship project, Unnati in October 2018 to put up a strong fight against hunger. The project started with the motto "अन्न दान, जीवन दान" which highlights the importance of basic amenities like food. With Project Unnati, the team aims to provide meals that are Nutritious, Hygienic, Delicious as well as Affordable at a subsidized rate of $ 0.14 only, to underprivileged women and children. In essence, their mission is to meet the nutritional needs of socially or economically weaker sections by pioneering sustainable, grassroots, women-centred strategies and advocate their widespread adoption through a systemic model of entrepreneurship.Make sure to follow them on Facebook and Instagram.
The team promises nutritious meals by following a meal plan formulated by a well-known nutritionist. And ensure proper hygiene through regular training workshops for the individuals working in the project.
During their journey, the team faced multiple challenges while trying to provide an effective and sustainable solution. However, with continuous efforts and a focused goal, they have come a long way from where they began. In 2020-2021, the team has decided to broaden its horizon with cost-effective sustainable solutions. They consulted a well-known nutritionist to come up with a more specific meal plan keeping in mind to boost the immunity by inculcating iron & folic acid rich foods. In January 2020, they launched the 5 meal plan at Unnati stalls and were able to impact 511 lives. So, to sum it all up, in the Covid Unlock period, the members involved in the UNNATI project will again begin setting up stalls at various locations with hired working individuals who will be trained accordingly by NGO NASVI.
In all, the team believes that we as a society have an obligation to invest now to improve the lives of all those forgotten souls, who've got no one to turn to! They aim to achieve their goals by making the best use of the resources and strive to ensure sustainable solutions. And in the process, inspire people around us to give back to those who need it most.
Project Sustainable Food for Children by MasterPeace Cameroon, Cameroon
Project Sustainable Food for Children was presented by Zibi Alva and Ngo Bonfoga. Hope for Better Foundation is an NGO based in Cameroon which aims at enhancing sustainable development within communities and improvement of women's and children's conditions. The NGO works for peace, fight against GBV and a better socio-economic condition for Cameroonians; mostly in rural areas. H4BF's projects have been funded so far by; Global Aid for Africa, Pollination grant and UNDP. The team addresses issues which have been plaguing the residents of the country so far such as the ongoing Anglophone crisis which has led to the displacement and psychological distress of so many persons and market prices of foodstuffs very unaffordably 3 times higher.
However, with sheer dedication and hard work, the team is trying to help people in dire situations through their various projects. Their project seeks to enhance sustainable livelihood amongst vulnerable women and empower them through vegetable gardening and poultry farming. The team aims to build the capacity of 2012 able women or youth on vegetable gardening and poultry by 2022. They also aim to support 1000 vulnerable trained women/youths with startup material like wheelbarrows, hoes, watering cans etc by 2022. The project is intended to run for 4 years through 2019-2022. It was first executed in the West region of Cameroon. Currently, the project is still ongoing with over 100 trainees.
The team has been able to identify and train 72 beneficiaries in the West region of Cameroon and have trained them in poultry farming and vegetable gardening. They have also been trained on marketing strategies and provided cash transfers to some families in the suburbs. A total of 100 beneficiaries in the Northwest region are currently being trained by the team. Presently, due to COVID-19, more women are in need then project resources can provide and therefore the team is soliciting more support and funds as the project has no official funding. There are also persistent and prolonged electricity cards which they are trying to manage through the use of power banks. However, the team is still trying to manage in these sheer conditions and is working with all focus on helping those in need in these dire times.
Conclusion
In all, the projects run by these two teams have been able to gather support and have also impacted a large number of people. However, the journey is still long and there are more than expected number of people requiring help due to the pandemic and the situations prevailing in the world. Even though the teams are working hard to accomplish their goals, however, a helping hand can help them go further and help more who are in need. If you are situated in any part of the world and are wanting to help them feed and help more people than ever, then don't worry you are at the right platform because as much as we need to achieve our aims, more than that we need your helping hand!
Those interested in getting in touch with Team Unnati can do so by visiting their social-media handles on Facebook and Instagram.
For Team Cameroon, you can get in touch by by visiting their website.
Every helping hand counts and matters to us!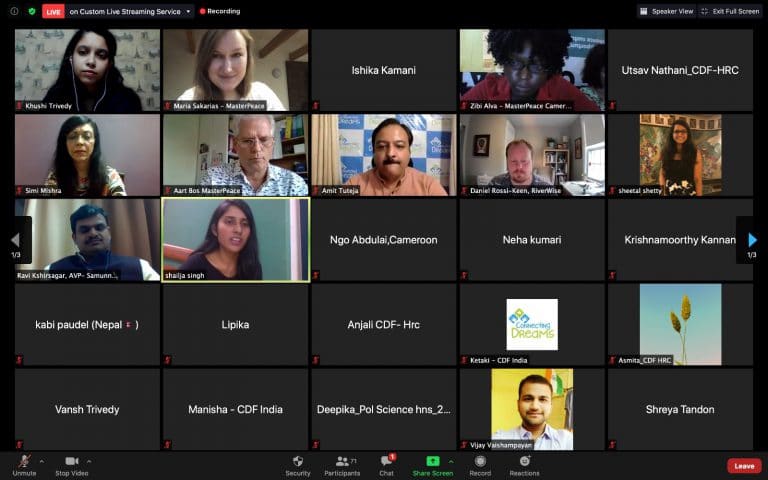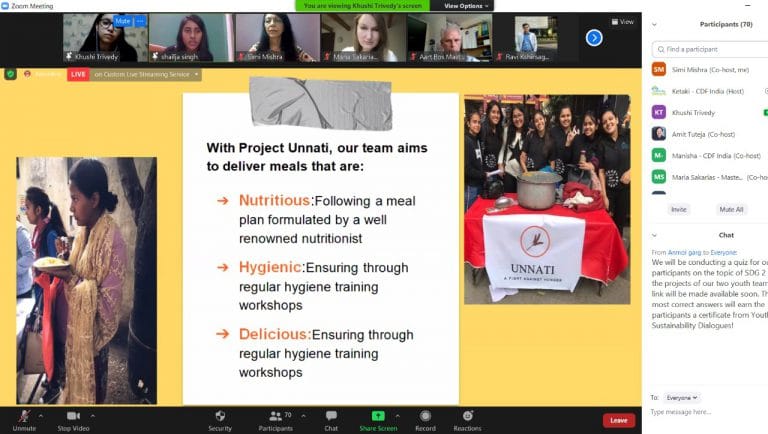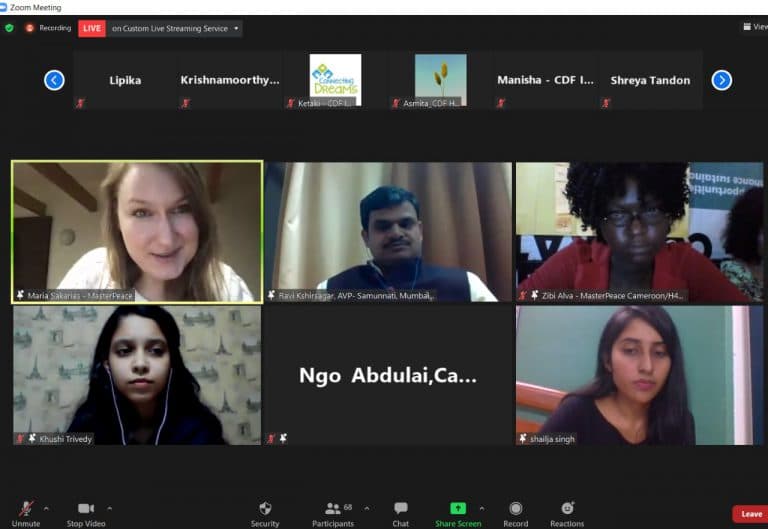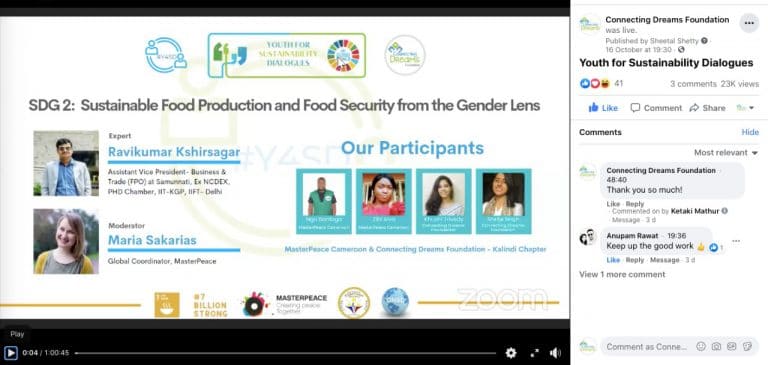 Previous
Next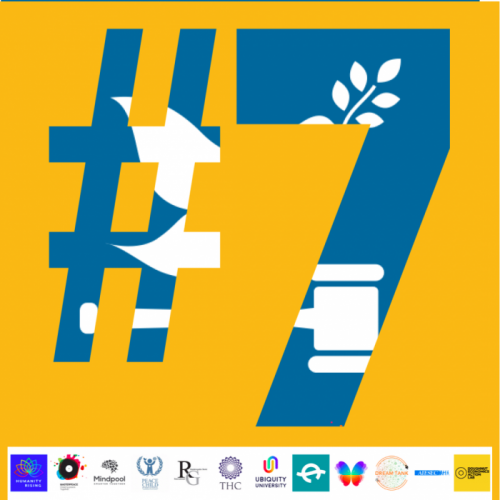 PeaceDay2020 - Youth Assembly
http://https://youtu.be/A-uas3-WsGk
The United Nations is marking its 75th anniversary at a time of great challenge, including the worst global health crisis in its history. For the first time people all over the world are having the same concerns. Will the global crisis bring the world closer together? Or will it lead to greater divides and mistrust?  And how do we rebuild the world beyond the pandemic?  
Young leaders from  100 cities across the planet are now stepping up to the challenge. During the Peace weekend, September 19-20, they will come together online, and onsite to take counsel on how we can turn the crisis of the pandemic into an opportunity for global renewal.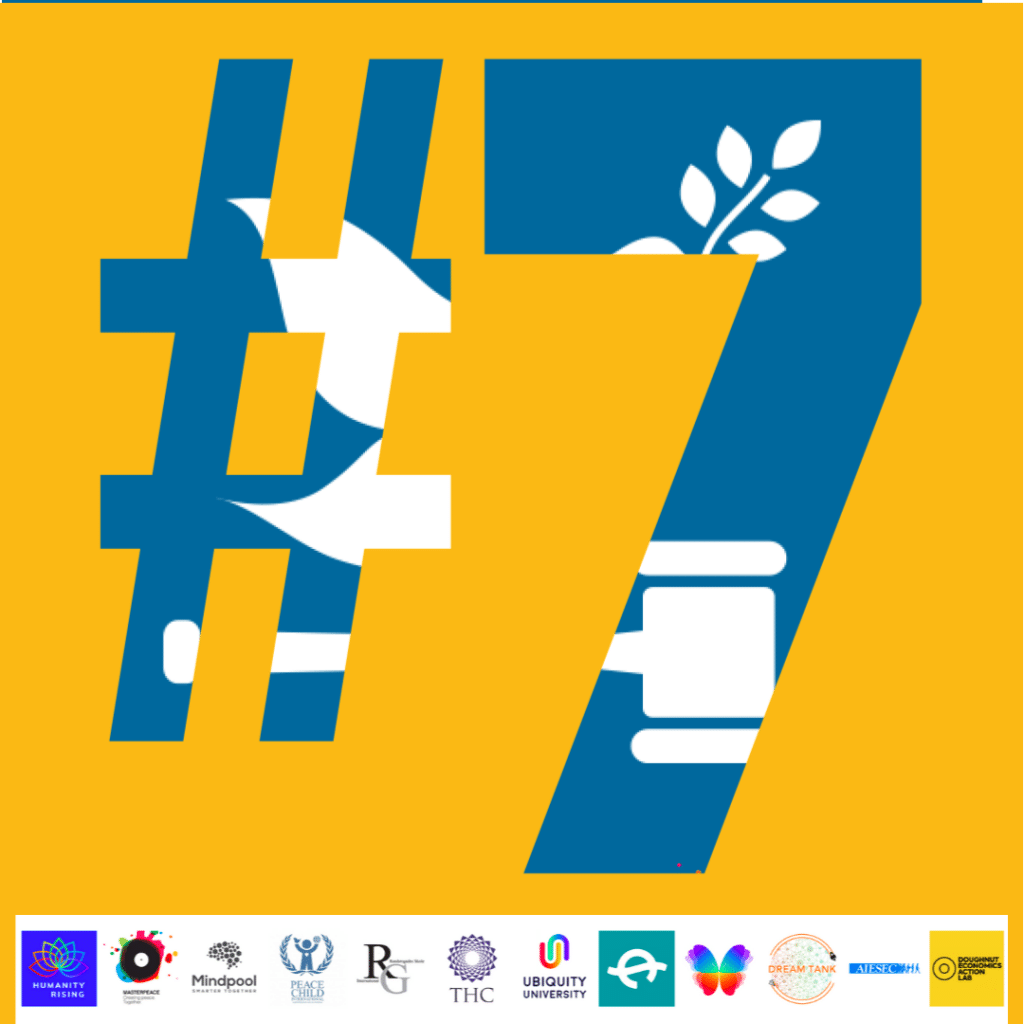 The epicenter of the project is Youth Island, a former sea fortress outside Copenhagen, which has been taken over by the Danish Scouts, and transformed into a unique gathering place for young people from all over the world.
On UN's International Day of Peace September 21, a delegation from the Global Youth Assembly will sail from Youth Island  to the UN-City in Copenhagen to hand over the conclusions from the Assembly to the world leaders. 8 delegates from the Youth Assembly will join Humanity Rising's Day 99 session, to share the conclusions from the Youth Assembly and talk about the next steps. 
All
Africa
Americas
Asia
Europe
Global
Highlights
My Music Competition
Uncategorized